Fire Your Thyroid eBook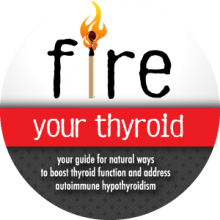 Fire Your Thyroid is available to you from a Holistic Nutrition Coach who has studied hypothyroidism and autoimmune hypothyroidism extensively and, based on this research and application, is now in unmedicated remission from hypothyroidism and Hashimoto's (autoimmune hypothyroidism).
Unlike many eBooks, this information-packed resource contains no wide margins, no double-spacing, no unduly large typeface, and no images to take up valuable space. It's information you need to know. 
Discover the answers to your burning questions, such as:
What causes hypothyroidism?
Foods that both weaken and strengthen thyroid function
The deal about thyroid supplementation 
The truth about conventional thyroid treatment
The thyroid/gut connection
The full range of thyroid labs to ask for
Ways to mitigate the autoimmune attack on your thyroid 
(It's estimated that 97% of people with hypothyroidism have autoimmune hypothyroidism (Hashimoto's).)
Click here to learn more about the Fire Your Thyroid homestudy course
Fire Your Thyroid is available in Adobe PDF format.