Recent and Helpful Posts
This ridiculously simple breath exercise is one of the single best things you can do to tame your monkey mind, find your center, tame those hypervigilant adrenals, and feel like a calm has washed over you. It's so easy, you can do it behind the wheel of a car.

"Exercising with fatigue or low thyroid function is about progressing slowly, making the movements work for you (not the other way around), listening to your body, and not adding unnecessary stress to your system." - Jen Sinkler

"How do I find the best animal products? What questions should I be asking?" Farmer Jack McCann answers these questions and mentions the implications for your endocrine/hormonal system, including thyroid and reproductive.
Coming Soon!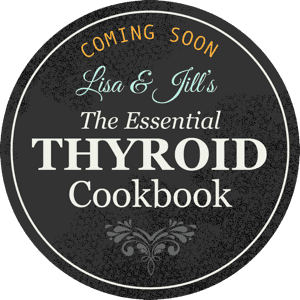 Lisa and Jill are writing THE definitive cookbook for those with hypothyroidism and Hashimoto's. Sign up for updates and you'll also receive their Essential Thyroid Nutrition Guide.
Meet the Healthful Elements coaches:
We have been featured in: