Reversing Alopecia Preview Tutorial
This webinar is the no-cost, no-fluff, sneak peek/preview to the 5-part Reversing Alopecia Masterclass series.
UPDATE: Feel free to read this page, of course, but this webinar has taken place. You can still enter your name and email on the left for updates about the full, 5-part Reversing Alopecia masterclass series that begins on May 1, including a link to the Preview Tutorial recording, which will only be available until Saturday, April 20 at 10:00am Central. In other words, if you sign up on the left after this date, the recording won't be available, but you'd still be subscribed to hair loss and alopecia newsletters and enrollment information about the upcoming masterclass series.

You can find testimonials from some of last year's participants here >
* * *
This spring's FREE Preview Class takes place on:
April 16 at 7:30pm Central Time (ending around 8:45pm).
Go here for a time zone converter >
But please know that you don't have to participate live—a recording will be shared with all enrollees.
[The dates for the full 5-part Masterclass series are: May 1, May 8, May 15, May 22, and May 29, all at 7:30pm Central.]
This is me, after having been over 1/3 bald with the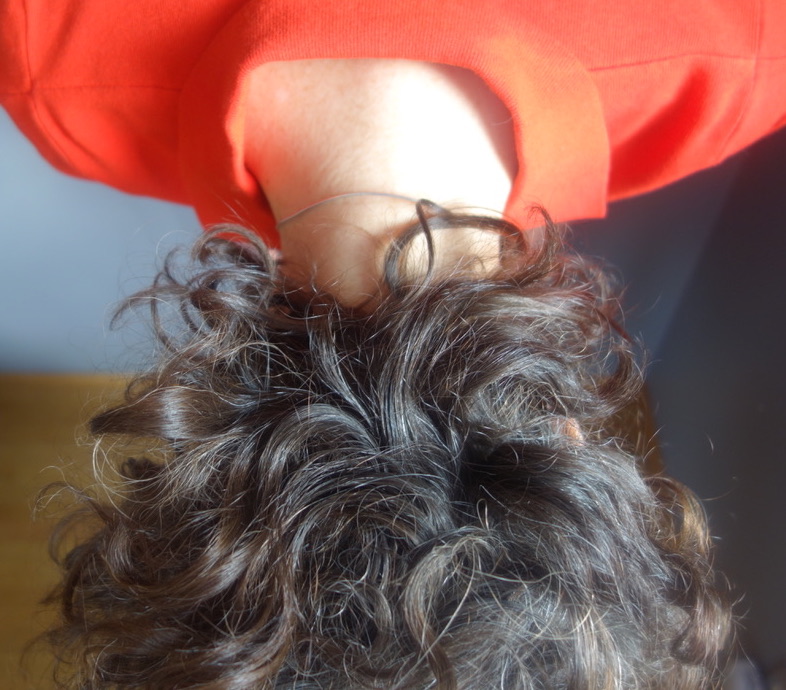 alopecia ophiasis pattern. None of what you see in this photo existed. >>
You'll walk away from this free preview class with steps you can start taking now to help foster follicle health. Because that's where it all starts: follicle health.
<< Sign up on the left. (Or at the bottom if you're on a mobile device.)
The medical community has shoved questionable, ineffective, and de-generative (vs. REgenerative) topical treatments at people for too long. Or immunosuppressants. (Don't even get me started on those.)
You don't have to "live with it." There's another way.
"Alopecia," of which there are many patterns, is the medical term for hair loss, but many experts use the word "alopecia" to refer specifically to autoimmune hair loss, where antibodies attack hair follicles and cause patchy hair loss—and sometimes complete hair loss. But alopecia is not always strictly autoimmune in nature.
Like other visible manifestations of autoimmunity such as psoriasis or scleroderma, alopecia can take a considerable emotional toll.
According to the National Alopecia Areata Foundation, "In all forms of alopecia, the hair follicles remain alive and are ready to resume normal hair production whenever they receive the appropriate signal."
I know how to generate these signals.
In the full course, I'm going to share with you the exact same information that I've used myself to go from 1/3 bald over three years ago (and struggling to see any regrowth) to getting my curls back and also the information that I've used to help my private coaching clients, including this young girl, and last year's Reversing Alopecia masterclass participants.
In addition to feedback from last year's participants, you can also see testimonials from some of my private coaching clients at the bottom of this page.
This was me, 3+ years ago. >>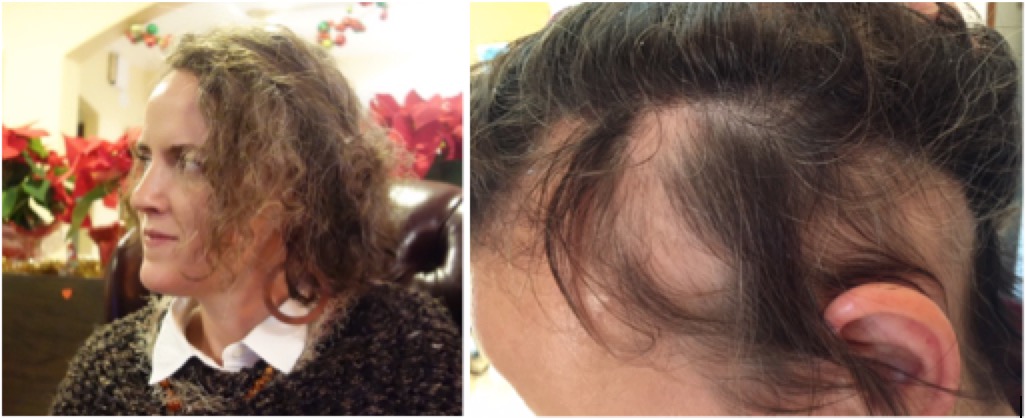 There was nothing above my ears and at the nape of my neck (alopecia ophiasis). The clip that's holding hair back in the left photo is covering another huge spot. And there were others peppered around my head.
The quality of my hair had also taken a big nosedive. After a life of healthy
curls, my hair was not only incredibly
thin, but also dry and wiry. The photo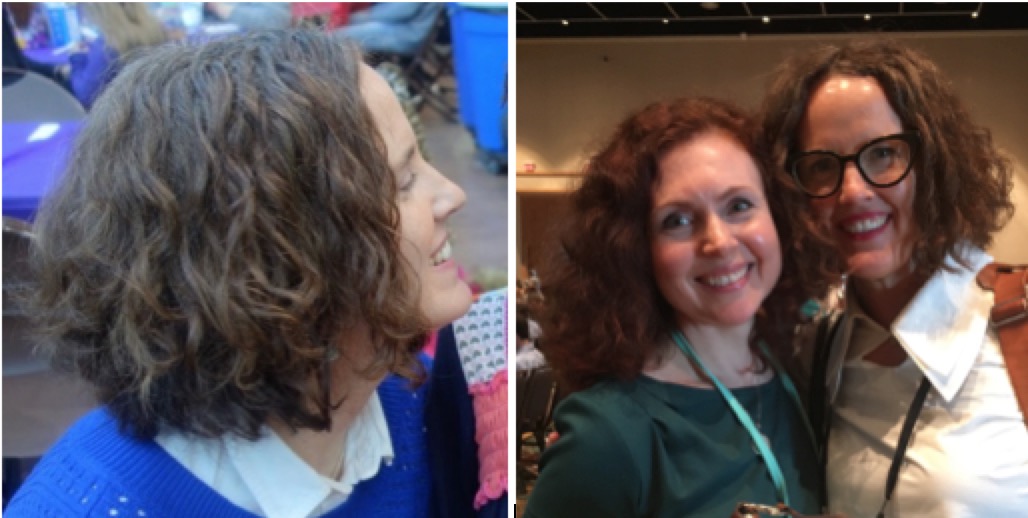 on the right shows my partial regrowth a few months later.
Go here to read more of my story and see more photos of my spots >
This is me, March and June of 2018 (right photo: Dr. Deanna Minich). >> 
No clips, and back to my normal hair texture.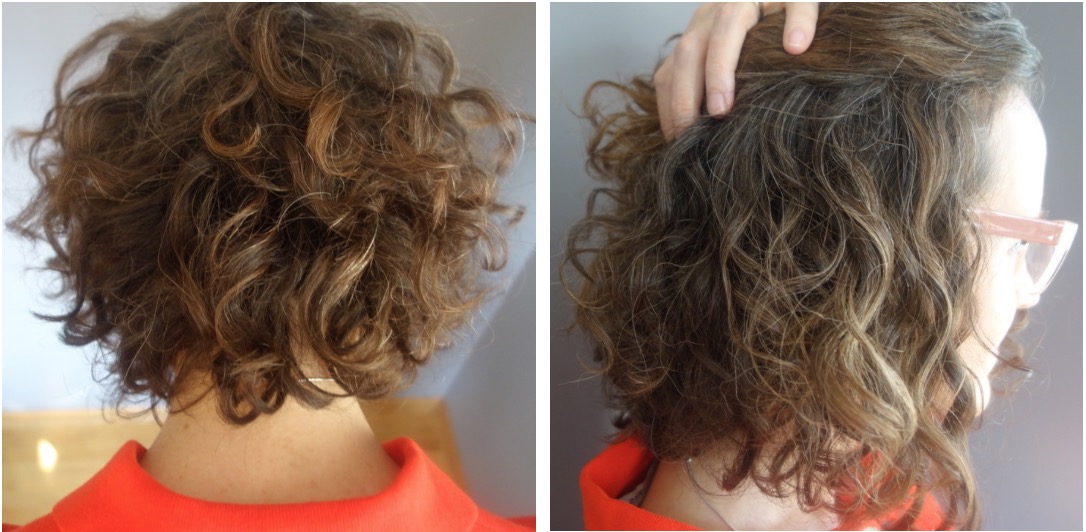 It has been an incredible, life-changing journey. I want to share what I learned with you.
These photos were taken on March 24, 2019. Mike from Phoenix rightfully asked me to "pull it up" and prove that I had hair at the nape of my neck and above my ears, where it used to be a clearcut. >>
I owe some of my success to the esteemed Dr. Greg Plotnikoff of Minnesota Personalized Medicine. I'd done a lot of my own obsessive work, but I also took what he taught me and ran far with it. It was a marathon and I crossed the finish line. 
Later, he gave me one of the best compliments of my life (and career), saying, "I appreciate your highly scientific mind." Last summer, at the Institute for Functional Medicine's Annual Conference, he introduced me to another prominent doctor as "the preeminent expert on alopecia."
<< To enroll in the Reversing Alopecia Masterclass Preview Tutorial, please scroll to the top of this page and on the left, enter your name and email. (Or at the bottom if you're on a mobile device.)

Testimonials
This can all be possible for you, too! (Again, testimonials from last year's participants can be found here.)
From some of my 1-1 private coaching clients…
I was suffering from alopecia areata and had multiple bald spots. I turned to cortisone injections to regrow the hair, which helped somewhat but was affected my long-term health. Because of my program with Jill, my bald spots are fully growing hair on their own without the injections, which is sort of like a miracle after having alopecia for 6+ years! Jill's program WORKS! Patience is key and it will all pay off. Trust the process and if you stick with your new lifestyle, you will see results. Listen to Jill. —Lauren P., San Francisco, CA
I was doing a lot of the "right" things before starting my program with Jill, but I wasn't seeing any regrowth. My work with her has been a tipping point because she was able to tie it all together and help me know what was missing and how to sequence things. Within six weeks of starting Jill's program, I had stubble over most of my head. In the coming weeks, I will look like I have a pixie cut. —Ann N., Colorado Springs, CO
My son developed alopecia areata three years ago. We tried everything to get his hair to grow back. After working with Jill, his stubborn spots are now filled in. —Trudy Messner, Chicago, IL
You are the person to teach us about alopecia. You have a personal, physical, emotional stake in the topic. This isn't theory for you, it's real. Here's the hope I have to offer…my daughter lost her hair completely. We started working with you and her hair, eyebrows, and eyelashes grew back. Her hair is now past her shoulders and healthy. She has started to lose some hair 2 or 3 times over the last year (I am convinced due to stress). BUT…nowhere near the amount of hair that has fallen out before. If we had not followed your program, I don't know if her body would have been strong enough to hang on to the hair. You helped us reduce the internal inflammation so her body could handle the stress. We are continuing to work on reducing her cortisol by increasing her ability to cope with stress. Where would we be without you? Maybe bald again. But we're not. —Trina Cameron, Nashville, TN
I spent five figures over the course of three years trying to resolve my alopecia. I saw several specialists around the country and everyone sounded totally clueless about the real causes of alopecia, promised me some miracle solution (none of which worked), wanted me to take cancer-causing immunosuppressants, or were just throwing spaghetti on the wall to see what would stick. No one—no one—knows alopecia like Jill. After being a chrome dome for a few years, I now have hair over most of my head. Things aren't quite perfect for me yet, but man, I'll take what I've got and I'm confident the rest will come in time. —Rick Stone, Atlanta, GA 
My hair was constantly on my mind, or rather, my lack of hair and how quickly it was continuing to fall out. Since working with Jill, my hair loss has not only decreased, but has started to fill back in! I cannot express enough gratitude to Jill for the work she does. —Nicole Hoines, Langford, SD 
As soon we started working with Jill, [my daughter's] eyebrows started growing back. She now has good re-growth on the front of her hair as well and a few very tiny patches at the base of her hairline. —Michelle Sargent, Brisbane, Australia
I really thought I was going bald and starting thinking about what style of wig I would wear. Within a month of starting with Jill, I was losing so much less hair. Then, I started growing hair. Not only do I feel like this situation has totally healed and stabilized, but also the texture of my hair is so much better, better than it's been for years. I'm finally getting my hair back and I know what to do to keep this from happening again. —Megan Schultz, Los Angeles, CA
<< To enroll in the Reversing Alopecia Masterclass Preview Tutorial, please scroll to the top of this page and on the left, enter your name and email. (Or below if you're on a mobile device.)