Reversing alopecia is possible. It's an inside job.
The journey can not only help you regrow hair, but it can transform your health—and your life. Why? Because we're healing from the inside.
Have you "tried everything?" So have most of my clients and course participants.
NOTE: Feel free to read this page, but the Reversing Alopecia Mastercourse Homestudy isn't currently available. We're launching the next iteration of the LIVE mastercourse soon.
In my Reversing Alopecia Mastercourse Series, currently available as a homestudy, I'm going to share with you the exact same information that I've used myself to go from 50% bald (about 1/3 of my scalp was clear-cut from the ophasis pattern and I had several other sizeable spots) to getting my thick curls back and also the information that I've used to help my private coaching clients. And yes, I had a setback last year and now have 100% coverage on those spots. 
The solution isn't in a pill, potion, cream, a single bottle of supplements, or another round of shots. There's another way.
Hi, I'm Jill. I've had alopecia, off and on, for 38 years. I started with mild alopecia areata (age 13) and for over 30 years, my intermittent and relatively small spots always grew back quickly. Things changed drastically in my early 40s—I developed alopecia ophiasis and quickly became 50% bald.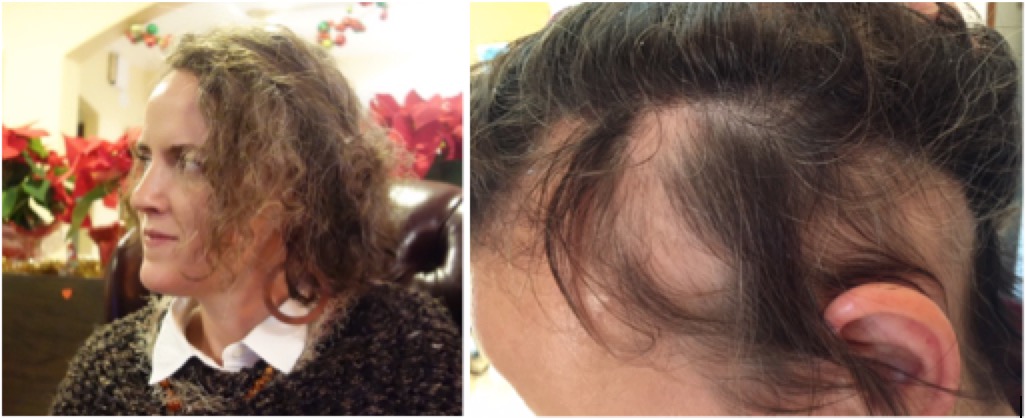 NOTHING was happening for over 2 years—except more loss. The photo on the right doesn't show the worst of the worst; this was after my ophiasis pattern has started to grow in a little. >>>
With a lot of obsessive research, asking 'why, why, why?,' trial and error, and a determination to not go bald (although I was already looking at a platinum blonde pixie wig), I turned it around, got my curls back, and had no inordinate loss for well over 3.5 years. I then had a recent and relatively mild setback (2020). Much of that has grown in and what's still "bald" has short and light growth. In other words, there is 100% regrowth on those spots (above my ears).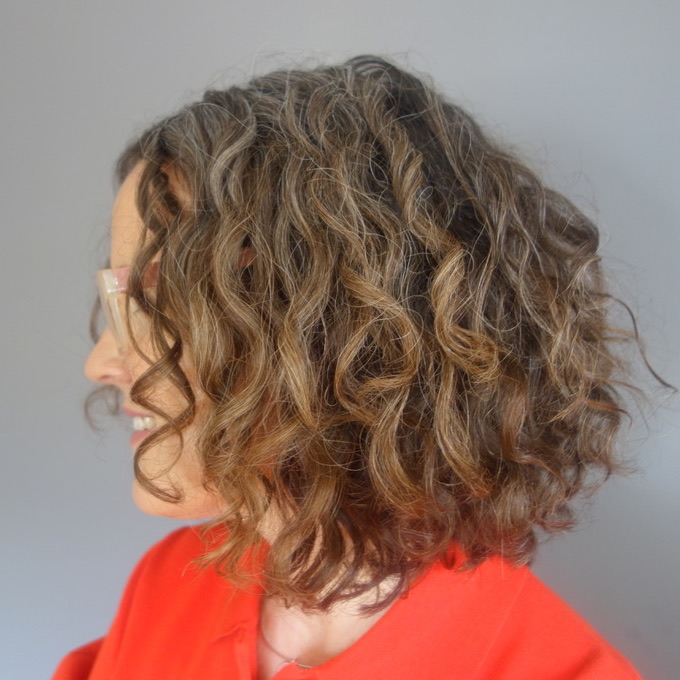 For over 7 years, I've been helping clients from around the world. 
This is me, after my rebound from 50% baldness >>

Go here to read more of my story and see more
photos of my spots. >
Do I offer promises or disingenuous claims? No.
Do I claim that my approach will help everyone with alopecia? No.*
Do I attempt to take the place of a medical provider? No.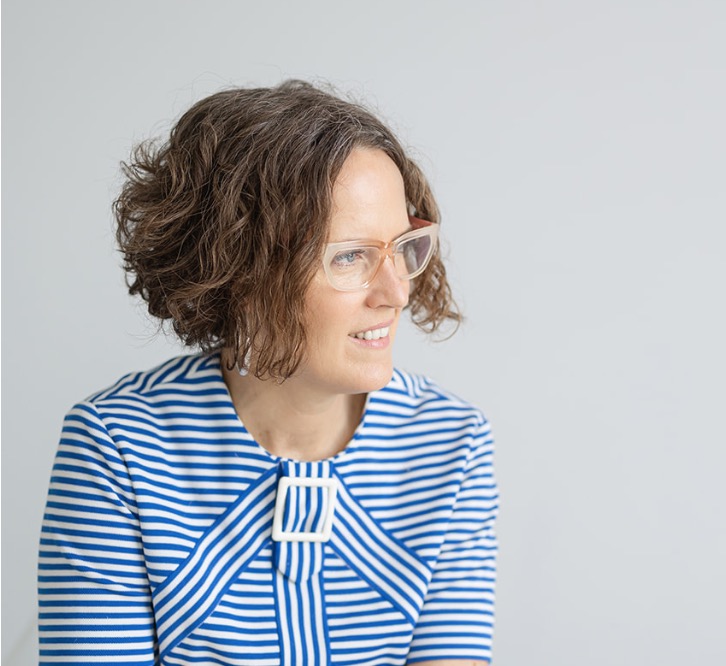 * Although I would never make promises and false claims, I believe that most any form of alopecia can be reversed. In my 1:1 coaching practice, I don't work with men with male pattern baldness or anyone with cicatricial (scarring) alopecia. 
This is me today (taken Feb. 2021) >> (Yes, my hair texture has changed a bit.)

Please know this:
There's no one answer—no one-size-fits-all approach. 
There's no silver bullet or magic wand.
If you want this, you have to take the long view. (As Seth Godin says, "In the long run, education pays off.")
Growth takes time. Results won't happen overnight. Or next week. As one of my prior RA participants said, "We cannot measure success by the number of new hairs since last week." (Be sure to read the FAQs at the end of this page.)
Alopecia isn't always strictly an autoimmune condition. Among several other imbalances that we'll cover in the course, there's almost always a hormonal component, even for those with autoimmune hair loss and especially for those with androgenic alopecia.  
Alopecia is one of the most unpredictable conditions—both the loss and the regrowth can be sporadic.
Things aren't perfect for some of my clients and course participants, but most are overjoyed with their success—some have gone from a wig to no wig and others have seen the majority of their spots fill in. (See some testimonials from some of my 1:1 clients at the bottom of this page. And see what the 2018 and 2019 RA participants had to say here and here for the 2020 participants. I just wrapped up the 2021 course and some participants are seeing much less hair loss, some bald spots fill in, and eyelashes and eyebrows sprouting.)
As I learned the hard way, alopecia is multi-factorial. There are just as many considerations in reversing alopecia as there are forms of alopecia (areata, diffusa, totalis, universalis, etc). 

Here is an updated (2021) testimonial from the person in the above photos: "Jill is very generous in her time and information that she shares with her alopecia group members. We were encouraged every step of the way to discover our own root causes of hair loss, as it is different for everyone. I'm extremely appreciative of her generosity and kind spirit. I now have hair covering my entire body that is here to stay after 5 years of alopecia universalis. I still have some thin areas and one slower patch at the back, but I can wear my hair up in a bun! Or clipped up. And you can't see that patch. No more wigs or hats! Everyone keeps telling me how amazing I look." 
According to the National Alopecia Areata Foundation, "In all forms of alopecia, the hair follicles remain alive and are ready to resume normal hair production whenever they receive the appropriate signal."
Only until each of these factors is considered (and then addressed) will the follicles become available for re-signaling and people see lasting improvement. Otherwise, it's a game of whack-a-mole: the practice of repeatedly getting rid of something, only to have more of that thing appear.
In talking about my alopecia journey, the esteemed Greg Plotnikoff, MD, (who has helped me on this journey) gave me one of the best compliments of my life (and career), saying, "Your highly scientific mind has been your greatest gift." At the Institute for Functional Medicine's 2018 Annual Conference, he introduced me to another prominent doctor as "the preeminent expert on alopecia."
As for the rest of the medical community, many have shoved questionable, ineffective, and in some cases, downright dangerous "treatments" at alopecia sufferers for decades. (Please don't get me started on immunosuppressive drugs and the concerns around corticosteroid injections.)
Many of these treatments are DEgenerative, not REgenerative, making things worse in the long run.
Additionally, the "hair restoration" community has also offered a lot of false promises with expensive procedures and creams that don't work—and what's worse, don't get to the root (no pun intended) of the problem.
I spent a healthy 5 figures figuring out how to do this. Many of my clients and course participants have also spent 5 figures on various treatments, procedures, and false claims. And wigs.
Again, I can't make promises to anyone, but I can show you what I've done and what has worked for many others. I can save you time and heartache.
Again, see testimonials at the bottom of this page. Learn more about my story and see more photos here.
From Trina Cameron, the mother of Claire, whose alopecia story was featured in Experience Life magazine:

Announcing, my Reversing Alopecia Homestudy Course… 
The recordings (video classes + slides), text transcripts, handouts, and guides (lab testing + supplements) from this year's masterclass series are now available for a short time as a homestudy course.

This one-of-a-kind, first of its kind mastercourse will transform your relationship with yourself. It's NOT just another "hair restoration" scheme or gimmick. You can get those anywhere. This is about lifestyle medicine with a laser focus on hair follicle signaling.
There are two options available.
The CORE course includes: 
A course kick-off with a Healthy Mindset coaching class
Nine (9) course modules 
Recordings of all modules (lifetime access)
Transcripts of all modules (lifetime access)
A library of handouts, guides, and studies (substantiation) accompanying each module (lifetime access), to keep you on track and moving forward 
The updated "motherlode" Alopecia Labs Guide 
The updated "motherlode" Alopecia Supplements Guide
New information (since prior course) about clinical applications for alopecia
15% discount on supplements through Fullscript (Lifetime access, U.S. only, but if you're in Canada, Australia, or Europe, I have colleagues who can help with access to other quality dispensaries.)
Discount on my #1 best-selling Essential Thyroid Cookbook (No limit on quantity—I will explain more, but there are a LOT of nutrients that support both the thyroid and the hair follicles, that catching two butterflies with one net thing.)
The ADVANCED course includes everything above, plus:
DUTCH testing (state of the art hormone testing) *
DUTCH coaching session/conversation with me (30 min.)
GI Map testing (state of the art gut/microbiome testing)
GI Map interpretation session with nurse/functional medicine professional (45 min.)
Additional coaching session with me, to discuss anything you want to (30 min.)
* DUTCH testing (dried urine testing for comprehensive hormones) is available for both women and men. If you're the parent of a child with alopecia, I don't want to discourage you, at all, from enrolling in this course—it will still be very helpful. The minimum age for a DUTCH panel is 12 years old. No price adjustments will be made for children who cannot do a DUTCH panel, but I'll make it up to you with a coaching session.
Final sale: 
Per my policies, all sales are final on homestudy educational products.
Bonus: 
I understand that some people may need deeper support or some individualized guidance related to content/teachings from the course. This could be one conversation or it could be a series of sessions. There will be the option for private alopecia-related health coaching at a discount, subject to scheduling/availability. 
From my hair stylist, Becky Zea:
Updated statement from Becky:
Testimonials (and see FAQs below): 
Remember, alopecia is reversible. (Again, testimonials from last year's participants can be found here and here. You can find more 1:1 client testimonials here. Again, some of my 2021 course participants are seeing much less hair loss, some bald spots fill in, and eyelashes and eyebrows sprouting.)
From some of my 1:1 private coaching clients (some abbreviated)…
My daughter was losing her hair and it eventually all fell out. Within the initial months of following Jill's protocol, we began seeing hair growth all over her body and scalp. We have a way to go, but we are filled with so much hope. I always felt like I was in the right place and if we were going to overcome this, Jill would help get us there. We're so grateful for her guidance, knowledge, and strength and her desire and commitment to understanding alopecia and helping with every person's unique journey. She's empathetic and easy to talk to and I always felt at ease knowing that she was there with me, but she also knew when I needed some tough love and she didn't "ok" me just to make me feel better. She always looked for the appropriate way to tailor the process so that I could make it work for my daughter. This was invaluable to me. For me this was and continues to be a beautiful partnership.—J.L., NJ
By the time I found Jill, I was desperate and dejected. I honestly didn't feel that anything would help me get my hair back. I'd been on an emotional and financial rollercoaster for so long and was about to accept "what is." Jill's program has been life-altering. I feel like I've healed from the inside out. Her knowledge base on this topic is unmatched. Not only are most of my spots filled in, but I have an outlook on life that I haven't had in years. I have energy for my kids and my work with more left over for me and my husband. If you're considering working with Jill, don't hesitate. She's honest, real, and one of the best educators I've ever worked with.—Pamela Thompson, Denver, CO
No one knows alopecia like Jill does. I started with not a strand of hair on my body and I'd been that way for a good 8 years or so. I now have eyelashes, eyebrows, body hair over most of my body, including nostril hair, and I have patches of dark growth over much of my scalp. Where I don't have dark growth, I have fine, white growth (which is how the dark growth started). I cannot wait to see what I look like a few months from now. Jill, you change lives. You change lives.—Debbie H., Schenectady, NY
I was suffering from alopecia areata and had multiple bald spots. I turned to cortisone injections to regrow the hair, which helped somewhat but was affected my long-term health. Because of my program with Jill, my bald spots are fully growing hair on their own without the injections, which is sort of like a miracle after having alopecia for 6+ years! Jill's program WORKS! Patience is key and it will all pay off. Trust the process and if you stick with your new lifestyle, you will see results. Listen to Jill. —Lauren P., San Francisco, CA
I was doing a lot of the "right" things before starting my program with Jill, but I wasn't seeing any regrowth. My work with her has been a tipping point because she was able to tie it all together and help me know what was missing and how to sequence things. Within six weeks of starting Jill's program, I had stubble over most of my head. In the coming weeks, I will look like I have a pixie cut. —Ann N., Colorado Springs, CO
My son developed alopecia areata two years ago. We tried everything to get his hair to grow back. After working with Jill, his stubborn spots are now filled in. —Trudy Messner, Chicago, IL
You are the person to teach us about alopecia. You have a personal, physical, emotional stake in the topic. This isn't theory for you, it's real. Here's the hope I have to offer…my daughter lost her hair completely 3.5 years ago. We started working with you and her hair, eyebrows, and eyelashes grew back. Her hair is now past her shoulders and healthy. She has started to lose hair 2 or 3 times over the last year (I am convinced due to stress). BUT…nowhere near the amount of hair that has fallen out before. If we had not [followed your program], I don't know if her body would have been strong enough to hang on to the hair. You helped us reduce the internal inflammation so her body could handle the stress. We are continuing to work on reducing her cortisol by increasing her ability to cope with stress. Where would we be without you? Maybe bald again. But we're not. —Trina Cameron, Nashville, TN
I spent five figures over the course of three years trying to resolve my alopecia. I saw several specialists around the country and everyone sounded totally clueless about the real causes of alopecia, promised me some miracle solution (none of which worked), wanted me to take cancer-causing immunosuppressants, or were just throwing spaghetti on the wall to see what would stick. No one—no one—knows alopecia like Jill. After being a chrome dome for a few years, I now have hair over most of my head. Things aren't quite perfect for me yet, but man, I'll take what I've got and I'm confident the rest will come in time. —Rick Stone, Atlanta, GA 
I've struggled with adrenal fatigue, PCOS, pre-diabetes, hypothyroidism, digestive concerns, and food allergies for most of my teens and twenties. Along with these issues, by age 27, (I'm 28 now) I had lost about a third of my hair. I worked with Jill and with her help was able to make some key changes in my health, which allowed me for the first time to see new hair growth since age 13 when my hair loss started. I have a long ways to go but I haven't met anyone so far who is a holistic alopecia expert. I'm grateful to have a go-to person who is focused on alopecia. I went from being devastated and depressed all the time to having hope when I saw those little sprouts of hair fill in last year…I remain hopeful that I can have a head full of thick hair as I continue to heal from the inside out. —Mariya J., St. Paul, MN
My hair was constantly on my mind, or rather, my lack of hair and how quickly it was continuing to fall out. Since working with Jill, my hair loss has not only decreased, but has started to fill back in! I cannot express enough gratitude to Jill for the work she does. —Nicole Hoines, Langford, SD 
As soon we started working with Jill, [my daughter's] eyebrows started growing back. She now has good re-growth on the front of her hair as well and a few very tiny patches at the base of her hairline. —Michelle Sargent, Brisbane, Australia
I really thought I was going bald and starting thinking about what style of wig I would wear. Within a month of starting with Jill, I was losing so much less hair. Then, I started growing hair. Not only do I feel like this situation has totally healed and stabilized, but also the texture of my hair is so much better, better than it's been for years. I'm finally getting my hair back and I know what to do to keep this from happening again. —Megan Schultz, Los Angeles, CA

Frequently Asked Questions:  
How long will it take for me to see results?
It depends. Again, alopecia is multi-factorial and depending on each person's factors and also the extent of the imbalance within each of these factors, the time to see results will vary. I've had clients begin to see eyelash and eyebrow sprouts in 4 weeks. Scalp hair takes longer—it typically takes 3-4 months in the very best of circumstances to start seeing scalp sprouts. For most people, it's going to be 6 mo. or perhaps longer. If you go "all in," I feel you can expect results around the 6-month mark. Again, for some, it's longer. 
The length of this course is only 3 months. The majority of people likely won't see significant hair improvements during this time, but it's possible. What you can expect during our time together is improved digestion, clearer skin, better sleep, brighter mood, more vibrancy, less joint pain, more energy, improved menstrual cycles, less anxiety, and weight loss (if you're looking to lose weight), to name a few improvements. 
My job is to give you the tools and resources for holistic/natural follicle stimulation and your job is to take the information and run with it, and then let things ride, with the hopes of seeing at least some scalp growth in a few months. 
Will you cover androgenic alopecia?
Yes. (You can read more about androgenic alopecia here.)
Will you cover diffuse loss?
Yes. (You can read more about alopecia diffusa here.)
I don't have an official diagnosis, but I'm losing hair. Could this help me?
Yes. I haven't worked with anyone with cicatricial/scarring alopecia, although I do think that the fibers/scars can be treated and reversed, after which, I believe that the follicles could be stimulated.
Can this course help men and children?
Yes. I've had several men and children in prior RA courses and have worked with them in my private coaching practice. While we may address some things in the course not applicable to men and children (like menopause), the remainder of the program will definitely be helpful. 
Do you offer a guarantee of results?
If anyone in the health/wellness arena ever offers you a guarantee of results, run the opposite direction. I'm providing the information and given that we won't be in a coach/client relationship (except during the few coaching sessions offered as part of the Advanced course), it's up to you to implement to the best of your ability. There's absolutely no way for me to know if people actually do that. Plus, everyone is unique and will have unique triggers, experiences, and outcomes. 
Can I share my enrollment with a friend?
Please don't. Please respect my federally copyrighted work and my integrity (and yours) and do not share your enrollment or the class materials with anyone.

How long do we have access to the course? 
Forever. In perpetuity. The links won't expire and you'll always have access to the handouts/resources. But please don't share my copyrighted materials. See prior question.
I'm a healthcare practitioner. Can I use your materials from this course and teach this information on my own?
I've had several practitioners ask me this and the answer is, um…no. Not without credit to me. That would be plagiarism, which is defined as "the act of using another person's words or ideas without giving credit to that person." 
I don't want to sound like a curmudgeon, but alopecia is my life's work. I've spent several years and a 5-figure sum learning how to get things right—and turning around and teaching these learnings. Please do right by yourself and me by not adopting my work as your own. The information in this course can influence your work, but you cannot copy my work. That said, I'm thrilled to have other healthcare practitioners in this course—I'm flattered that even those without alopecia are interested in learning from me! 
I don't live in the U.S.—can I still participate?
Yes! You can participate from anywhere. All classes will be recorded (video + transcript) and will be emailed to you with the accompanying handouts/guides. You can refer to all of the materials at any time. Additionally, I'll do some of the Zoom "hangouts" at a time that's convenient for those in Europe. 
Will I receive a hard copy of any content?
No. All content is digital and again, you can access it anytime. You're welcome to download and print anything you wish to.
Do you offer refunds?
Because this is a digital series with recordings and downloadable content, I do not offer refunds. All sales are final on homestudy courses. 
Will this be the same information as what you use in your private coaching practice? 
Absolutely. I put my heart and soul into this course and I'm leaving nothing out. 

I'm breastfeeding. Can I take this course?
I would wait. I had a couple of women in prior modules who were breastfeeding and did the course with the guidance of their doctor, with the goal of implementing some things after they were done with breastfeeding. While somewhat reasonable, I would wait so that you can absorb and implement everything in the sequenced way that I'll present it.
Do you have any clients for whom this has not worked?
I've had clients who couldn't adhere to the suggested changes for various reasons—a limited belief system, not feeling "deserving" of healing, "falling off the wagon," lack of engagement, or just unfortunate timing in life (hello, 2020), which is entirely understandable. That said, many of my clients and course participants have been pleasantly surprised that the dietary changes that I suggest aren't as restrictive as you think they might be.
And it's not all about diet, for sure. In fact, for some, they've found an infectious component to their alopecia and it can take some time to resolve infections. Many have said things like, "Had I not taken this course, I'd likely never have known I have H. pylori." (This is huge.) As one of my 2020 participants said, "The biggest breakthrough for me was the GI test. I am 100% certain I would not have done this test had I not participated in Jill's course. Once Jill's nurse/health coach colleague and I reviewed the results, I knew that if I was going to get right, my gut will have to be healed. All these years, I believed I was a champion of food and exercise, and to actually see what is in the gut was jaw-dropping."
For the clients who went "all in," many have seen growth for the first time in many years. If they haven't, they're encouraged by what's happening with others, they're continuing the work, they're extremely optimistic, and they BELIEVE that success is coming their way. I believe that they'll see regrowth soon too; I think it's just a matter of time before they say, "I see hair!." I'm not saying I'm a magic-maker—this takes work. They did the work.
What is the main difference between this course and your private coaching practice?
The main differentiator is super targeted personalization. And that my shortest 1:1 coaching program is 4 months in duration. There's no way that a group course or homestudy can be super personalized, as much as I would love to help everyone to the nth degree. For instance, I can't do any type of coordinated care with other healthcare providers, look at labs, or discuss health histories. There can be nuance to any therapeutic program and I can dig into that detailed nuance with my clients, but not in a group or homestudy setting.
I can perform these things in the context of a private coaching relationship, which as a participant of this course, you'll get a discount on (mini program), should you need more individualized guidance. More details at the end of the course.