Black Bean Sweet Potato Turkey Chili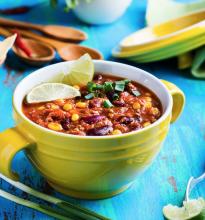 ©Recipe by Lisa Markley, MS, RDN, co-author of The Essential Thyroid Cookbook
Chili has always been a quick go-to one-pot meal and this chili is no exception. I varied it a bit from traditional chili by using organic ground turkey and gave it a rich, deep flavor with the smoked paprika and chipotle chili powder. The diced green chilies also add a little zip, but overall this chili is not too spicy for most—my kids gave it two thumbs up!
Ingredients
1 medium yellow onion, chopped
1 pound ground organic turkey
2 cloves garlic, minced
1 medium sweet potato, diced
15 oz. diced tomatoes with or without green chilies*
1 tablespoon chili powder
2 teaspoons ground cumin
½ teaspoon smoked paprika
¼ - ½ teaspoon chipotle chili powder
15 oz. tomato sauce*
1-2 cups water
1 (15 oz.) can black beans, drained and rinsed
Optional: ½ cup frozen corn
Salt and pepper to taste
Optional toppings
Cilantro
Avocado
Lime
Preparation
Sauté the onion for 2-3 minutes over medium heat. Add in the meat and cook for 4-5 minutes until browned.
Add in garlic, diced tomatoes, and spices and cook for 3-4 more minutes.
Add in tomato sauce, water, and beans, then simmer-15-20 minutes until sweet potato is fully cooked.
Top with cilantro, avocado, and a squeeze of lime.
* Jill's note: Most canned tomatoes are 15 oz. I don't care for canned tomatoes because tomatoes are good at leeching the can's lining and experts are now saying that BPA-free linings are just as bad as BPA linings. For this reason, I prefer Jovial brand tomatoes that come in a glass jar. That said, I don't feel that canned tomatoes, from time to time, are entirely off limits and my favorite brand is Muir Glen, which does contain the green chilies listed above. If you use tomatoes without the chilies, feel free to add some of your own.
Go here to learn more about the concerns around BPA and know that regular probiotic use has been shown to flush BPA and other plastics.
Posted by Jill McLaughlin (Grunewald) on Jan 25, 2020