Week 14 :: What Frost?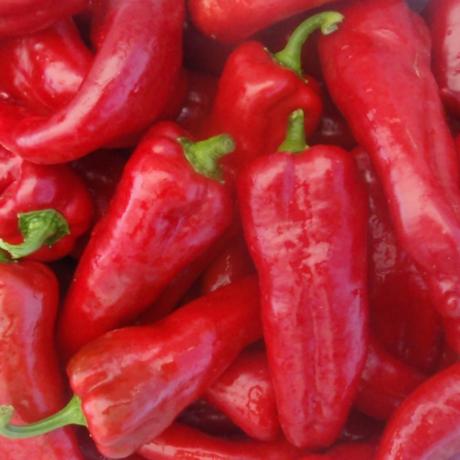 Well, so much for the much-anticipated frost on Wednesday night. Yes, it was darned chilly on Thursday morning (hat, gloves, and scarf warranted), and there was a slight white glisten on the grass, but the crops survived - all but the basil.
Joey, her family, and some of their neighbors scrambled the day and night before, harvesting as much as they could. The shed and walk-in were full of produce; it will never cease to amaze me the volume of food that can be grown on a small farm.
In this week's box: spinach, radishes, salad mix, broccoli, eggplant, watermelon, pole beans, cilantro, red onion, tomatoes, red peppers, hot peppers, and salad greens.
Whereas the last couple of weeks' boxes were largely jewel-toned (peppers, more peppers, tomatoes, more tomatoes, eggplant, red onions, raspberries), this week's box had a lot more greens, which was a real switch-a-roo. At least for me. I didn't expect more mixed greens, spinach, and cilantro, all of which came up again. Just goes to show I'm new to this!
Our fridge is a little overrun with peppers and tomatoes, so I gotta get on preserving these babies. And this weather definitely merits soup!
Creamy Tomato Soup
3 T grassfed, organic butter
1 medium onion, chopped
2 T flour
2 c water or stock
4 lbs tomatoes (about 12 medium)
2 T brown sugar (or coconut sugar or date sugar)
6 whole cloves
1 c half and half or cream (or coconut milk/cream)
1/2 t salt
freshly ground black pepper
1/3 c sliced basil
Melt the butter in a large pot over medium/high heat. Add the onions; cook, stirring until tender (5-7 min.) Reduce the heat to medium; sprinkle the flour over the onions and cook, stirring constantly until the mixture foams. Pour in the water or stock and bring to a boil. Peel the tomatoes (drop in boiling water for 30 sec. to a minute, then into cold water to loosen the skins) and remove the stems. Cut them in half, squeeze out the seeds, and chop. Set aside 3/4 cup. Add the remaining tomatoes, sugar, and cloves to the pot. Leave uncovered and reduce the heat so that the mixture continues at a gentle simmer. Cool, uncovered, stirring occasionally, for 30 min. Remove the pot from the heat and set aside to cool slightly. Remove and discard the cloves. Transfer the soup to a blender and process to a smooth puree. Return the soup to the pot, place over low heat and add the reserved chopped tomato. Stir in the cream and add the salt and pepper to taste. Heat the soup stirring constantly, until very warm (but avoid boiling it, as this will curdle the cream). Turn off the heat; stir in the basil.
Okay, so Deke isn't an old-time honky tonker, but he appreciates them as much as I do. And some day he'll be an old-time honky tonker. My husband and I recently saw him at the Minnesota State Fair and the show was nothing short of fantastic. Can anyone tell me why some uber-talented musicians are still relatively obscure? Anyone?
So Deke, this week's farm post is dedicated to you.
Posted by Jill McLaughlin (Grunewald) on Sep 16, 2011