Thyroid Self-Test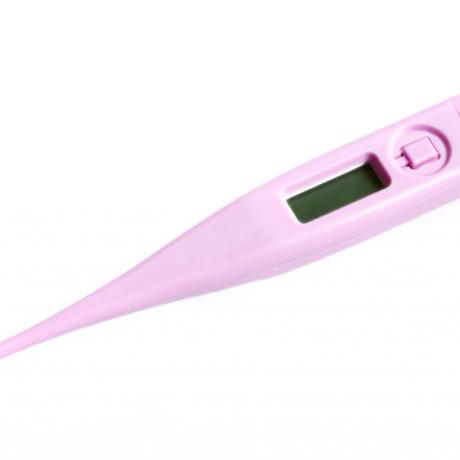 This post was updated on Oct.17, 2013
Many of my clients have not been diagnosed but suspect they're hypothyroid based on symptoms lists, or they have been told that they're fine and sent along their merry way when they know in their hearts that they're hypothyroid. This is because the majority of doctors ONLY test for TSH (thyroid stimulating hormone (thyroid stimulating hooey)). People can have "normal" TSH yet their hypothyroidism rages on.
One way to test for potential hypothyroidism is to do a basal body temperature (BBT) test at home. According to Dr. John Douillard, "Before blood tests were available, the thyroid was evaluated by basal body temperature and the signs and symptoms presented by the patient. Today, these traditional tests have been replaced by modern blood tests. It has now become clear that these blood tests alone are not accurate enough." 
This test should be used in conjunction with thyroid labwork.
[My best selling cookbook is now available: The Essential Thyroid Cookbook: Over 100 Nourishing Recipes for Thriving with Hypothyroidism and Hashimoto's.]
A basal thermometer is required for this test; a regular thermometer will not give you the same reading. You can purchase a basal thermometer at most any drugstore or online. Basal thermometers are ultra sensitive and can give you a more accurate temperature.
There is discrepancy in opinion about whether the basal thermometer should be digital vs. mercury. Some of the authorities I respect say that it should be glass/mercury because the digital thermometers stop reading after a minute or two and are not as accurate.
Generally, I've found the digital thermometers to work just fine. You don't need 100% accuracy necessarily; you simply want to know if your temperatures average 97.8 degrees or less. If your average is borderline, or right around 97.8, I still suggest supporting thyroid function.
Instructions:
Keep a basal thermometer beside your bed. When you awaken in the morning, at roughly the same time and before moving around at all (even before you make a trip to the bathroom), tuck the thermometer snugly in your armpit and keep it in place for 15 minutes. Remain as still as possible. Remove the thermometer, take a reading, and write down the results.
Follow this procedure for three days, then determine an average reading by adding all three readings together and dividing by three. If your average temperature is below 97.8 degrees F, you most likely have an underactive thyroid.
It's important to shake down a glass thermometer the night before because shaking just prior to the test will raise your temperature and throw off the reading. For women still cycling, BBT for thyroid function should be started on the second day of menstruation because mid-cycle, there is a natural rise in temperature with ovulation.
Posted by Jill McLaughlin (Grunewald) on Jun 26, 2011