The Debate: Functional vs. Conventional Medicine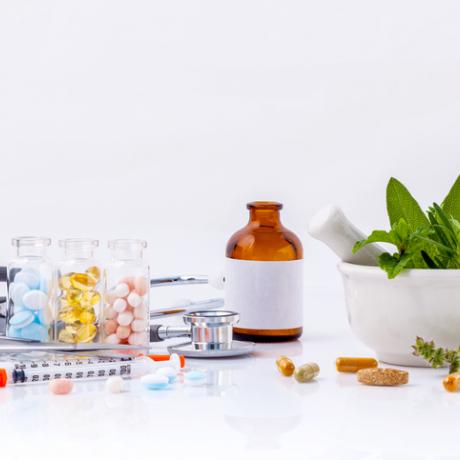 If you've read even half of one of my blog posts, you know that I believe food can heal, plants have amazing power, sleep is its own form of medicine, and moving around (whether it's yoga, rollerblading, or doing an extra lap around the conference room at work every time you go to the bathroom) is a powerful antidepressant.
The power of the functional approach is one of the guiding principles of my life. I've experienced its effects firsthand, seen it work for so many others, and I think every human being on the planet, whether they're experiencing a health challenge or not, would benefit from eating more whole foods, engaging in radical self-care, and making sure they have enough vitamin D floating around their system.
But people often think my religious fervor for functional medicine means that I reject the allopathic (conventional) model.
Far from it.
I'm a heavy user of allopathic interventions (more on that in a minute) and there are things that Western/conventional medicine does extremely well. Case in point: if you get your finger stuck in the garbage disposal, for all that is good and holy in this world, do NOT call me first. Get thee to an emergency room — stat!
Ditto for an extremely high fever. Ditto for suspected pneumonia. Ditto for sharp, shooting chest or abdominal pain, and a broken limb, and a sliver stuck in your retina. Ditto for so many things.
Additionally, Jill and I aren't categorically against thyroid hormone replacement. You may not need the emergency room for your prescription, but you do need a trusted MD who can order thorough testing and work with you to determine the right dosing.
The two approaches — functional/integrative and allopathic — are often seen as mutually exclusive. If conventional treatment is good, then the functional/integrative approach is ineffective/bad — and vice versa. Sometimes, practitioners on both sides loudly denounce the other methodology.
That practitioner is not me. Or Jill.
We'll be honest about the limitations of each approach, but we'll also be honest about the benefits. And we can talk you through what it's like to engage with both approaches because we've been there – both personally as well as professionally vis a vis our clients.
Want to know what it's like to give up sugar? I can tell you. Want to know how to give up sugar successfully? Got you covered there, too. Want to know how to manage an elimination diet and how to reintroduce foods correctly (so you can tell if they cause you trouble – or not)? Check.
Want to know how to choose a doctor who "gets you?" I've got advice. Want to know what questions to ask your MD when you get a scary diagnosis? I can help you strategize that because I've done it many times. Want to know what it's like to prep for colonoscopy (or an upper endoscopy or an endoscopic ultrasound) and what it's like to get one? I can walk you through what to expect.
(You can let me know in the comments below if you want me to write about any of these topics!)
I had a colonoscopy a few weeks ago, part of the routine bi-annual (allopathic) screening I go through for my own unique health circumstances. I also get a handful of other scans and scopes to make sure all my internal organs are behaving the way they should. (My functional screening, that I organize myself, includes a series of blood tests that I run faithfully every three to six months and then recalibrate my food and supplement regimen based on the results.)
It was my recent hospital experience that gave me the idea for this post.
I realized that a lot of people would be surprised to learn that I embrace both approaches (and can support clients who are interested in both).
I also wanted anyone who was still in the closet about engaging in both approaches to be out and proud. Both approaches have limitations; both have valuable things to offer. You'd be remiss not to investigate all your options.
So this post is about being in touch with your body, learning what's best for your unique health situation, and then embracing the best of all approaches, whether it's functional nutrition, traditional Chinese medicine, craniosacral therapy, music therapy, forest bathing, a semi-regular colonoscopy, or all of them put together.   
Posted by Laine Bergeson on May 18, 2017