One of the ONLY Detoxes I Can Get Behind...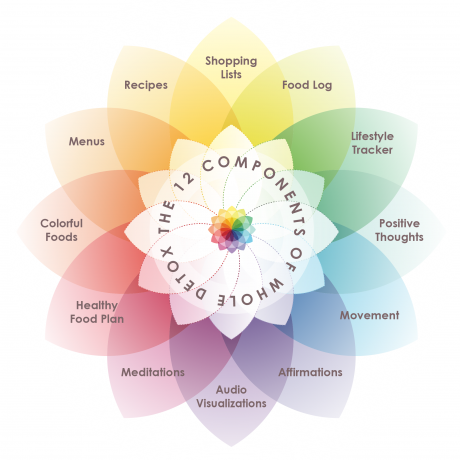 [This post was updated on Sept. 18, 2017 to reflect new dates of this wonderful program.]
Detox. It's a bit of a buzzword, if you ask me. There are more iterations of cleanses and detoxes than you can shake a stick at.
Outside of an Elimination/Provocation diet, I've never done one.
I then saw one that I could get totally excited about – it's what a detox should be.
Firstly, it's not about deprivation. (Exhale.)
It's a dive deep into the physical, mental, and emotional body and gives you all the tools you need to achieve full-spectrum health.
Dr. Deanna Minich's Whole Detox is totally different than anything you've seen before. Seriously.
And it starts on September 22 >
I'm a longtime fan of Dr. Minich. I've heard her in interviews and her lecture in my Functional Medicine Coaching Academy program has been, hands down, one of my favorites.
She's been behind my Essential Thyroid Cookbook in a substantive way – she's reviewed the book and has graciously written a back-of-book endorsement. Lisa and I are so, so honored to have her support.
So…detoxing. You may have a negative view of detox and think of it as only deprivation. Deanna's Whole Detox won't leave you deprived. Instead, you'll feel completely nourished and energized.
Many traditional detoxes focus only on the body – on the foods you eat, the supplements you take, and the products you use. Very few look into the important role your mind plays in how you feel.
Deanna is an experienced researcher and practitioner and has discovered that to achieve true wellness, we must address all of the toxic elements in our lives.
This program is a full-spectrum approach to remove all toxic barriers to your health – not just those from foods.
It offers a colorful, doable plan to uncover all the obstacles that prevent you from thriving. Using Dr. Minich's integrative 21-day program, you can remove toxins, repair existing health issues, boost energy, improve relationships, and find purpose and passion.
You'll receive a list of foods to select from that are non-allergenic, non-sensitizing foods for most people.
And yes, you can select omnivore or vegetarian menus and recipes.
The recipes incorporate colorful, whole foods rich in phytonutrients and unlike most detox programs, this one doesn't emphasize what you need to remove and avoid; rather, Deanna makes sure you incorporate the foods that help you thrive and feel nourished!
In addition to food, you'll examine other toxic barriers like stuck emotions, unsupportive relationships, negative thoughts, lack of movement and flow, inability to speak one's truth (MAJOR for thyroid function), poor sleep and brain fog, and feeling disconnected and depressed.
I've never promoted a detox before.
Posted by Jill Grunewald on Sep 19, 2017