Healthy on a Budget: Top 10 Tips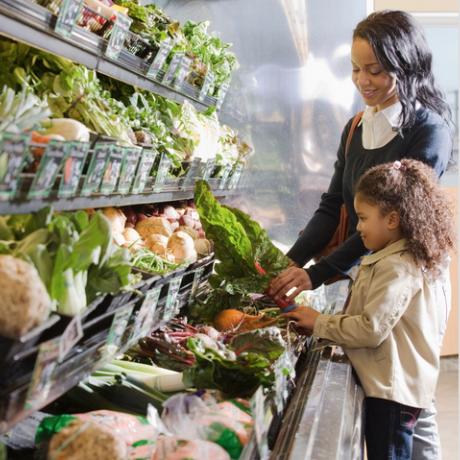 Making healthy changes in the kitchen may stretch your pocketbook, but in the long run the savings can really add up if you follow these tips. 
(If you have our Essential Thyroid Cookbook, you may have seen that Appendix F, "Affordable Organic and Sustainably-Grown Food and How to Prioritize" also covers this topic.)
Many of these insights were gained from not only my insider's perspective, but also my 6+ years of experience as a health food store dietitian where I helped customers successfully make healthy eating choices that worked for their budget and lifestyle. 
Take inventory of what you have in your pantry and refrigerator before shopping to prevent buying duplicate items and to use up already purchased foods before they go bad or expire.
Plan 3-4 meals and 2-3 breakfast ideas for the week and make a list of what you'll need. Having your meals planned out ahead of time and eating at home can save a lot of money. When planning, think of how to balance your meals/snacks with quality protein, healthy fats, complex carbs, and minimally processed ingredients. Check store fliers online for sales to inspire your meal planning.
Organize your shopping list by department and in order of how you typically shop to prevent wandering back and forth around the store. Wandering aimlessly may make you more prone to making impulse purchases that can really add up. Stick to your list.
In the produce department, shop for seasonal items to take advantage of sales. Even though kale or spinach might be on your shopping list, be flexible if another green like Swiss chard happens to be what's on sale and buy that instead. You can also shop at farmers' markets and freeze or can seasonal items.
In the bulk department, you can buy as much or as little of what you need. This is a great place to experiment with trying new healthful ingredients you may have never tried before like lentils, certain spices, raw nuts and seeds, or forbidden rice.
In the grocery department, learn how to read the price labels on each item to do price per unit or price per ounce comparisons. Oftentimes, the store brand can offer significant savings, but be sure to read the labels to avoid unwanted, highly processed ingredients, additives, and/or preservatives. Also find out if your store offers bulk discounts. For example, if you have a favorite type of almond milk and you buy it a case at a time, you may be able to save around 10% for buying the larger quantity.
In the meat department, keep in mind that you're paying for convenience when purchasing items like pre-cut chicken tenders or breasts. Buying the whole bird can often save you money and actually tastes fresher. You can apply this principle to other cuts of fresh meat. Also, if you're planning to freeze the meat you're purchasing or aren't going to eat it right away (within 2-3 days for food safety reasons), see if it's already available frozen—it's often less expensive.
In the seafood department, keep in mind that a lot of items that are in the fresh seafood case comes in as "previously frozen," so if you know you're going to just take it home and freeze it, you may want to just buy it frozen to begin with. Again, this can be a money saver, and can also prevent undesirable texture changes in the fish that may occur from thawing, freezing, and thawing again. Seafood cooks up quickly and is easy to thaw under a slow stream of cool running water for about 5-10 minutes, depending on the type.
In the freezer department, frozen fruits and vegetables offer ample nutrition and convenience. Food producers flash freeze items that are destined to be frozen at time of harvest, which halts significant nutrient losses that might occur during transport and storage. Stock up on frozen fruit that can be added to smoothies, stirred into hot cereal while cooking, or simply eaten straight from a bowl (I seriously love frozen cherries and eat them like a bowl of ice cream). Frozen vegetables like broccoli are easy to add to soups and stir-fries, and greens like spinach or kale can be blended into a smoothie. It's best to consume most frozen items within 3-4 months, so plan accordingly.
Find the best store to shop for certain staple items. I've found that that the "health food" section of many mainstream grocery stores actually tend to have higher prices and relatively poor turnover on a fair amount of their more healthful, natural options that what can be found at a natural foods store. Well-shopped natural food stores have better product turnover and higher buying power, so some items may be fresher and less expensive. If you don't have a natural foods store or a Costco nearby that you can shop at regularly, think about planning a monthly trip to be able to stock up on your staples. 
Do you already do any of these things or do you have additional tips/ideas to share?
Posted by Lisa Markley on Mar 29, 2018