White Bean & Basil Hummus
Posted by Healthful Elements Staff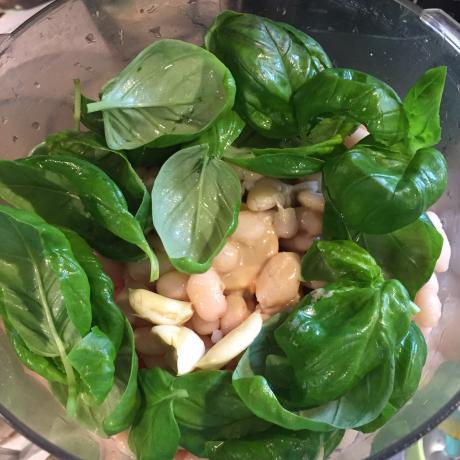 This post was written by Lisa Markley, MS, RDN, who, along with Jill, co-authored the #1 best selling Essential Thyroid Cookbook.
©Recipe by Lisa Markley, MS, RDN
This crowd-pleasing twist on hummus incorporates fresh basil for delicious flavor. Basil is an great source of antioxidant polyphenols known to reduce inflammation.
I was inspired to create this recipe when I discovered that potted basil herb plants were just a dollar more and far more copious in leaves than the pre-cut basil in the store. So I bought a plant, trimmed what I needed, and potted it for later use.  
Ingredients
1 (14-ounce) can cannellini beans, drained and rinsed
1-1½ cups fresh basil, tightly packed
1 teaspoon lemon zest
Juice of 1 large lemon
2 cloves garlic
2 tablespoons sesame tahini
¼ teaspoon red pepper flakes
¼ - ½ cup extra virgin olive oil
Salt and pepper to taste
Garnish
Pine nuts 
Serving suggestions
Sliced cucumbers, bell peppers, carrots, celery, radishes, or zucchini to dip
Gluten-free crackers for dipping
Spread on gluten-free rice cakes or gluten-free bread/wraps   
Preparation 
Place all ingredients in a food processor and puree until smooth and creamy.  
Add a few tablespoons of additional olive oil a little at a time, until you reach desired consistency. Season with salt and pepper to taste and garnish with pine nuts. 
Store in the refrigerator for up to 7 days.     
Labels per our Essential Thyroid Cookbook recipe guide: Vegan, 30 minutes or less 

Supportive Nutrients per our Essential Thyroid Cookbook nutritional springboard: A(beta), B2, B6, C, Ca, Cu, Fe, Mg, Mn, Se, Zn, Gl, Ly

 

Posted by Healthful Elements Staff