Watermelon "Pizza" with Berries & Lemon Cashew Cream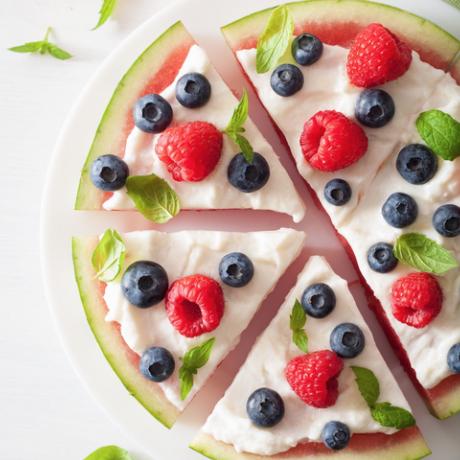 This post was written by Lisa Markley, MS, RDN, who, along with Jill, co-authored the #1 best selling Essential Thyroid Cookbook.
©Recipe by Lisa Markley, MS, RDN
This fresh and fruity dessert appeals to kids of all ages and is great to take to summertime cookouts, picnics, and parties. 
Ingredients
Watermelon
1½ cups assorted berries (blackberries, raspberries, blueberries, and/or sliced strawberries)
Lemon Cashew Cream
1 cup raw cashews, soaked 2 to 4 hours
1/3 cup water, plus more if desired
1 teaspoon lemon zest
1-2 tablespoons lemon juice
2 tablespoons raw local honey
1 teaspoon vanilla extract
Pinch of sea salt 
Preparation
Cut two large round slices about 1-inch thick from the center of the melon. 
For the Lemon Cashew Cream, drain and rinse soaked cashews and place in a blender with water, lemon zest, lemon juice, honey, vanilla, and sea salt. Blend on high for 45-60 seconds until smooth and creamy. Thin with additional water a teaspoon at a time, if desired. 
Spread lemon cashew cream out evenly on round watermelon slices. Decorate with strawberries and blueberries.  
Cook's notes: For a nut-free variation, substitute cashews with unsweetened coconut milk yogurt and omit water. 
Posted by Lisa Markley on May 24, 2018