Pumpkin Turkey Chili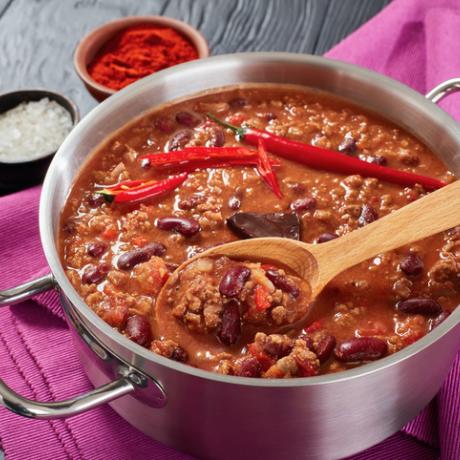 This post was written by Lisa Markley, MS, RDN, who, along with Jill, co-authored the #1 best selling Essential Thyroid Cookbook.
©Recipe by Lisa Markley, MS, RDN
Pumpkin provides an exceptional source of thyroid- and immune-supportive carotenoids (pre-cursors to Vitamin A). Canned pumpkin is a great pantry staple for autumn and winter cooking and can easily add natural sweetness and nutrient density when added to soups, stews, and desserts. When selecting canned pumpkin, choose BPA-free packaging or pumpkin package in a tetra-pak. If you'd like to cook your own, be sure to select a sugar pumpkin, the smaller culinary variety, as opposed to the larger varieties used for carving jack-o'-lanterns. 
Cook's note: If you have leftover cooked turkey from Thanksgiving, simply substitute it for the ground turkey. Since it's already been cooked, you can add it to the pot at the same time as the tomatoes, pumpkin, water, and spices. 
[For other holiday recipes, go here for our Thanksgiving Recipe Roundup.]
Prep time: 20-25 minutes
Serves: 4-6 
Ingredients 
2 tablespoons avocado oil or ghee
1 yellow onion, chopped
2 cloves garlic, finely chopped
1 red bell pepper, cored, seeded and chopped
1 jalapeño, seeded and finely chopped
1 pound ground turkey (or leftover turkey)
2 tablespoons chili powder
2 teaspoons ground cumin
1 (14.5-ounce) can diced tomatoes, with their liquid
1 (15-ounce) can pumpkin purée
1½ cups water
1 teaspoon sea salt
Ground black pepper, to taste
1 (15-ounce) canned kidney beans, rinsed and drained 
Preparation 
Heat oil or ghee in a large pot over medium high heat. Add onion, garlic, bell pepper, and jalapeño and sauté until they begin to soften, about 4-5 minutes. 
Add turkey, cumin, and chili powder. Using a wooden spoon or spatula, break turkey up into smaller bits and cook until meat is browned. 
Add tomatoes, pumpkin, water, salt, and pepper and bring to a boil. Reduce heat to medium low and add beans. Cover and simmer, stirring occasionally, for at least 15-20 minutes to allow flavors to meld. 
Ladle into bowls and serve. 
For canned items that are BPA-free, we recommend: Muir Glen diced tomatoes, Farmer's Market organic pumpkin, and Whole Foods Market's 365 Organic kidney beans.
©Recipe by Lisa Markley, MS, RDN, co-author, The Essential Thyroid Cookbook
Posted by Jill Grunewald on Nov 14, 2018