One-Pan Wild Salmon with Garlic Roasted Radishes & Asparagus (with optional Cumin-Lime Avocado Cream Sauce)
Posted by jill on Apr 27, 2019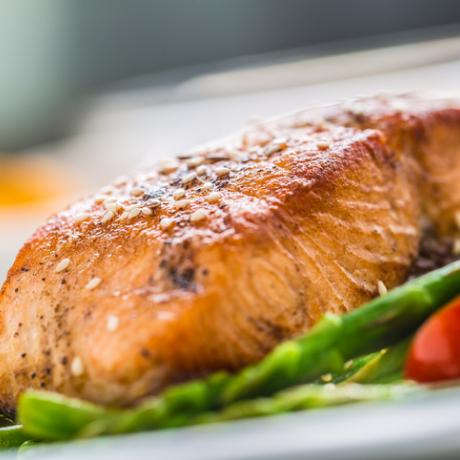 This dynamic duo is perfect for spring. These recipes were crafted with all of the same love, care, and attention to thyroid- and immune-supportive nutrients as the recipes in our best selling Essential Thyroid Cookbook. 
You can go here to find a pretty version of the nitty gritty nutrient research we did that ultimately became the springboard for all of the recipes in our best selling cookbook. And you can go here for a printable verison of the two recipes below.
©Recipe by Lisa Markley, MS, RDN, co-author of The Essential Thyroid Cookbook
One-Pan Wild Salmon with Garlic Roasted Radishes & Asparagus
Prep time: 20 minutes
Serves 4
Ingredients
Salmon
4 (4-ounce) wild salmon fillets
Coconut oil or ghee for greasing
4 teaspoons lemon zest, divided
1 teaspoon coarse sea salt
½ teaspoon black pepper 
Vegetables
4-6 cloves garlic, chopped
1 bunch asparagus, (chopped into 2-inch pieces)
1 bunch radishes, topped and halved
2 tablespoons extra virgin olive oil 
Preparation
Preheat oven to 425°F. 
Place the salmon in a baking dish greased with coconut oil or ghee, skin side down. Sprinkle with lemon zest, salt, and pepper. 
Toss the chopped garlic, asparagus, and radishes in olive oil and spread out on baking dish around salmon.
Place baking dish in oven for 15 minutes, stirring vegetables halfway through. 
Serve with a dollop of Cumin Lime Avocado Cream Sauce, if desired. 
Compatible with: Paleo, AIP, Elimination/Provocation Diet (with lemon zest omission for E/P diet)
* * *
Cumin-Lime Avocado Cream Sauce
Prep time: 5 minutes
Serves 4
Ingredients
2 avocados
½ cup water
Juice of 1 large lime
3 garlic cloves
½ teaspoon cumin
1-2 teaspoons nutritional yeast (optional)
1 teaspoon sea salt
¼ teaspoon cayenne 
Preparation
Place all ingredients in a food processor and process until smooth. 
Compatible with Vegan and Paleo diets
Posted by jill on Apr 27, 2019