Easy Ingredient Swaps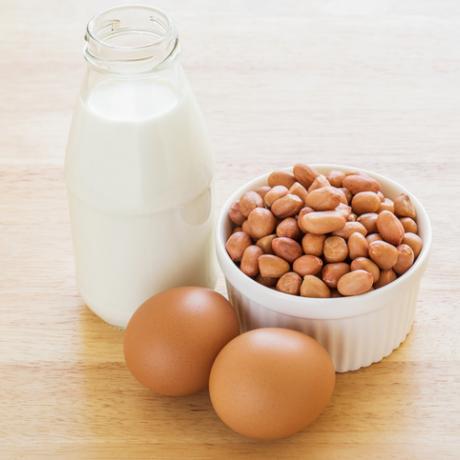 Having a food sensitivity or intolerance doesn't mean that you can never eat your favorite foods. With just a little know-how, you can whip up most any recipe with delicious and health-giving swaps.
Here are some suggestions for how to do it. 
[Our Essential Thyroid Cookbook is gluten- and dairy-free and incorporates many of these swaps in our recipes.]
Eggs
An egg substitute made with flax meal (ground flax seeds) can be used to substitute for an egg in baked goods like muffins. Mix 1 tablespoon flax meal with 3 tablespoons warm water and whisk with a fork to combine. Let it sit for 5-10 minutes to allow to thicken before subbing for 1 egg in any baked recipe.
Dairy 
Any plant-based milk (almond milk, coconut milk, hemp milk, etc.) can be substituted 1:1 (cup for cup) in a recipe with milk. 
Coconut milk, whether canned or the dairy beverage alternative, can be substituted 1:1 in a recipe. The coconut milk beverage has a less robust flavor. Canned coconut milk may be the preferred ingredient for many recipes because it's much creamier and adds more texture and body to a recipe. Be sure when you read a recipe that you're able to distinguish which one to use. 
Canned coconut milk is a great substitute for heavy cream in soups and stews. 
Raw cashews can be pureed into cream-based soups to replace heavy cream. 
Nondairy "buttermilk" can be made by adding ¼ teaspoon of lemon juice or apple cider vinegar to 1 cup of nondairy milk. Shake or mix thoroughly then let sit for 3-5 minutes before adding to recipe. 
Ghee (clarified butter) is a great substitute for straight butter, if you're lactose intolerant but still want the buttery flavor. With ghee, the lactose and other milk solids that may be problematic are removed. 
Coconut oil is a one-for-one swap with butter.
Gluten-free flours 
A gluten-free all purpose flour blend can be substituted 1:1 in a recipe. 
Nut flours, like almond flour, cannot be substituted 1:1 in a recipe that calls for all-purpose flour or other gluten-containing flours. I recommend finding a tried and true recipe featuring almond flour vs. trying to make a swap in a recipe you already have. Paleo recipes are a good place to look. 
Sweeteners 
Granulated sugar can be substituted 1:1 in a recipe with unrefined sweeteners such as coconut sugar, Sucanat (natural sugar cane), or maple sugar, but bear in mind that the unrefined sweeteners may have a stronger, more caramel-like flavor. 
Honey and maple syrup can be swapped with each other, but remember that maple syrup has a thinner consistency than honey, which may affect recipe's binding and stickiness. 
Peanut butter/almond butter 
Sunflower seed butter (sunbutter) can be swapped out cup-for-cup with peanut or almond butter. 
Soy 
Coconut aminos can be substituted for soy sauce.
 
Posted by Lisa Markley on Nov 16, 2017