Autumn Forbidden Rice Salad with Apple Cider Vinaigrette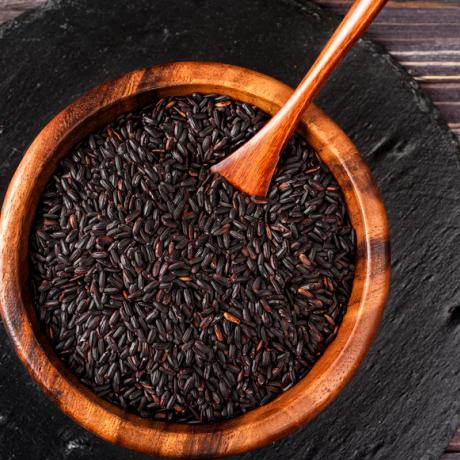 This post was written by Lisa Markley, MS, RDN, who, along with Jill, co-authored the #1 best selling Essential Thyroid Cookbook.
©Recipe by Lisa Markley, MS, RDN
This salad would make a great addition to any holiday table. It's a beautiful combination of complex carbs, essential fatty acids, and protein as well as the thyroid- and immune-supportive micronutrients magnesium, B vitamins, and Vitamin C.
[For other holiday recipes, go here for our Thanksgiving Recipe Roundup.]
Serves 6 
Ingredients 
Salad
2 cups water
½ teaspoon sea salt
1 cup forbidden rice
2 cups diced butternut squash
1 cup arugula
½ cup toasted hazelnuts*
¼ cup dried cranberries
¼ cup chopped parsley 
Apple Cider Vinaigrette
½ cup raw apple cider vinegar
¼ cup fresh lemon juice
¼ cup raw honey
2 tablespoons Dijon mustard
2/3 cup extra-virgin olive oil
½ teaspoon sea salt
¼ teaspoon black pepper 
Preparation 
Preheat oven to 400°F.
Combine the 2 cups of water, salt, and rice in a medium saucepan. Bring to a boil, then lower heat to medium and simmer for 35-40 minutes until all liquid has been absorbed. TIP: Do not stir rice while it cooks or it will cook unevenly. To see if it's done, tilt pan to the side to see if water is pooling at the bottom; continue to cook longer until all water has been absorbed. Fluff the rice with a fork, then spread evenly on a sheet pan and allow to cool.
Meanwhile, dice butternut squash, toss in olive oil, and spread out evenly on a sheet pan. Place in the oven, and roast for 30-40 minutes.
Make Apple Cider Vinaigrette by placing ingredients in a small bowl in the order listed and whisk olive oil in slowly until well combined. Season with salt and pepper. Set aside.
When rice has cooled to the touch, transfer to a large bowl and combine with butternut squash, arugula, hazelnuts, dried cranberries, and parsley. Add dressing to taste and toss gently to combine. Any extra dressing can be stored in a tightly sealed container in the fridge for up to a month.
*To toast hazelnuts:
Preheat oven to 300°F.
Spread nuts out evenly on a baking sheet and place sheet on middle rack in the oven. Toast nuts for 10-12 minutes. Be sure to set a timer to check the nuts and avoid burning.
Remove from oven and set aside to cool. Once cool, transfer to a tightly sealed container and store in the fridge until ready to use.
Posted by Lisa Markley on Nov 14, 2018