Basic Quick Pickled Veggies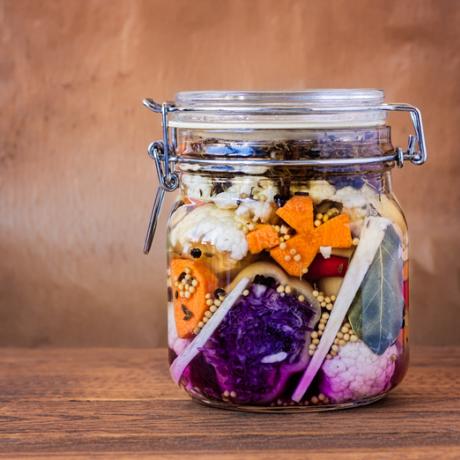 ©Recipe and post by Lisa Markley, MS, RDN, co-author of The Essential Thyroid Cookbook
I was recently feeling overwhelmed by the amount of local vegetables piling up in our fridge from our Community Supported Agriculture share with @urbavorefarm, so I decided that instead of letting them go bad, I'd pickle them!
Making quick pickled vegetables is a whole lot easier than you might think, plus it's a great way to preserve and extend the harvest.
Most any vegetable can be pickled, but I recently happened to do a mix of bell peppers, red onions, garlic, rainbow carrots, and cauliflower that turned out colorful and delicious. You can also find our Gingery Quick Pickled
Carrots and Cauliflower on page 218 of our best selling 
Essential Thyroid Cookbook.
Other benefits of quick pickling include: 
- The vinegar tenderizes fibrous vegetables, making them easier to digest.
- Acetic acid in vinegar has been shown to help support healthy blood sugar metabolism.
- Adds a tangy crunch to a meal.
Here's my basic how-to:  
Ingredients
1 pound of vegetables (approximately)
Optional: 1 teaspoon whole spices like mustard seeds, coriander seeds, and/or peppercorns
2 cups apple cider vinegar
2 cups water
1 tablespoon sea salt
Optional: 1 tablespoon sugar or 1-2 teaspoons local honey     
Preparation
Chop veggies and pack into one quart-sized or two pint-sized mason jars with some optional pickling spices like mustard seeds, red pepper flakes, coriander seeds, etc. Be sure to leave ½-inch of space from the rim of the jar to the top of the vegetables. 
Make a brine by combining apple cider vinegar, water, salt, and sugar in a medium saucepan. Simmer on stovetop for a few minutes until salt and sugar dissolve. 
Carefully pour brine over vegetables until they're covered completely and jar is mostly filled. Leave out on counter until cooled to room temperature, then cover with lid and refrigerate. They can be enjoyed right away, but for best flavor, wait at least two days to allow flavor to build before trying your pickled vegetables. 
Posted by Jill McLaughlin (Grunewald) on Sep 21, 2019