TSH = Thyroid Stimulating Hooey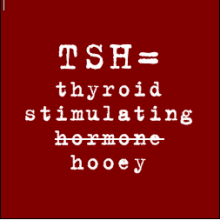 [This post was updated on February 8, 2013.]
I wish I had a dollar for every time one of my clients said, "My doctor tested my TSH and he/she said that my thyroid is fine, but after reading your symptoms list, I'm thinking that I still have a thyroid problem."
Really, your doctor said that your thyroid is fine? Then why are you so exhausted and moody? Why is your hair falling out and your estrogen high? Why are you putting on weight? Why are you having a hard time losing weight despite your best efforts? Why are you lethargic, not sleeping well, and so sensitive to cold? Why do you have unexplained soreness and stiffness and have mad cravings? Among other problems?
[Now available: Jill's #1 bestselling Essential Thyroid Cookbook: Over 100 Nourishing Recipes for Thriving with Hypothyroidism and Hashimoto's]
One of my past client's doctor dubbed me "parasitic and predatory" when my client showed her doctor the functional thyroid panel I suggested she ask for (listed below). Her doctor emphatically stated that TSH was the only test my client would need. I hear this all the time (not the parasitic part, the "TSH tells us everything we need to know" part).
Herein lies the big honkin' problem with conventional thyroid "treatment" and all of the people running around fried, exhausted, and overweight. True, being fried, exhausted, and overweight can be the result of other imbalances, but often times, it's a thyroid problem that many doctors are clueless about how to investigate. By using old guidelines and limited thinking, conventional medicine glosses over the millions who suffer with low thyroid function.
If the thyroid is our master gland of energy and metabolism, and you're fatigued and overweight, you owe it to yourself to completely rule out hypothyroidism by getting the full range of labs performed by a doctor who is open-minded, understanding, and well-informed, not myopic and condescending. You can also perform a BBT test at home.
When it comes to thyroid labs, most doctors only check thyroid-stimulating hormone (TSH), which does not give a full picture of how the thyroid is functioning. Its nickname is Thyroid Stimulating Hooey (thanks for the funny moniker, Janie Bowthorpe) and many doctors are married to it as the single indictor of thyroid function. TSH tells you how your pituitary gland is talking to your thyroid, but tells you nothing of overall thyroid function. In fact, even the interpretation of this test is incorrect most of the time.
Truth be told, TSH isn't wholly irrelevant, but it tells only part of the story. TSH increases when thyroid function drops, and decreases when the thyroid is working. So you want low TSH. Many doctors believe that anything over 5.0 or sometimes even 10.0 is worth treating (WTF?). However, according to many functional medicine doctors, anyone with TSH over 3.0 is hypothyroid. Some doctors claim that women tend to feel best with TSH between .3 - 1.0.
But … "normal" or "low" TSH doesn't necessarily mean that you aren't hypothyroid. TSH is simply not the end-all-be-all for thyroid testing.
In addition to the recommended thyroid hormone tests, the list below includes the two tests for thyroid antibodies that would indicate the presence of Hashimoto's (autoimmune hypothyroidism).
Getting doctors to recognize a thyroid problem, run the proper tests, know how to interpret those labs, and treat adequately is often challenging. It may require a change of doctors and a new way of thinking. Add to this the fact that most doctors know little about how to treat an autoimmune condition, including Hashimoto's, and patients' hypothyroidism can still be mistreated.
Aside from LDN (low dose naltrexone), which isn't a cure for autoimmune conditions, but can help drive antibodies down, there is no drug for autoimmunity. So even if a doctor knows what Hashimoto's is, many won't test for it because their course of treatment wouldn't change. They would do nothing differently for their patients.
Many doctors will tell you that autoimmune conditions are lifelong conditions. Not necessarily true.
You deserve to know if you have thyroid antibodies, which indicates thyroid tissue attack. It's also been shown that once you have one manifestation of autoimmunity – any manifestation – if it goes unmanaged, the likelihood of developing yet another autoimmune condition is greater than 50%.
If you have Hashimoto's, and you're simply trying to mask symptoms with drugs, you're barking up the wrong tree. Thyroid drugs can replace missing hormone, but they'll never heal the thyroid.
Sometimes, doctors will run one antibody test without the other. What good does that do? If you end up getting tested for the antibody that you don't have, it can be interpreted that you don't have Hashimoto's, when in fact you might. So it's critical to have both tested. (Although it's true that TPOAb is the dominant and most common antibody. Still, I've had clients with high TgAb and low TPOAb.)
"Doctors simply don't understand very much about nutrition, metabolism, and the thyroid. They know the basic symptom list, they know how to do a thyroid stimulating hormone (TSH) test, and they know how to write prescriptions. But they don't know about nutrition. You've heard the old bromide about how most doctors spend about an hour on nutrition in medical school. Well, in addition to that hour, they spend a couple of hours on thyroid disease, and that completes their education on nutrition and metabolism. The complexities of the endocrine system, the delicate interplay that goes on between hormones, the brain, the stomach, the appetite, and the ability to store and burn fat, are not topics most doctors have studies or even understand." – Mary Shomon
* * *
Below are the labs I feel reveal the most about thyroid function. These values, along with much more information about driving thyroid hormone production and conversion and supporting the immune system with whole foods nutrition, is thoroughly outlined in my best selling Essential Thyroid Cookbook.
Free T3 (or FT3) – T3 is "the big daddy" and the "free" in front of T3 (and T4, below) tells you what is available and unbound and therefore usable by the body. Without the "free," the labs are only measuring the total of what's there, which tell you nothing about what is available for use.

Free T4 (or FT4) - Again, tells you what's unbound and usable.

Reverse T3 (or RT3) – The "anti-T3 hormone." It can block thyroid receptors and cause patients to be unresponsive to any thyroid hormone. RT3 is typically high for those who need a lot of adrenal support.

TSH (thyroid stimulating hormone) - TSH should never be a stand-alone lab. It should always be taken in context with the above hormones and the antibodies listed below.
TPOAb and TgAb (Thyroperoxidase antibody and Thyroglobulin antibody) – These are the two thyroid antibodies tests. Positive antibodies confirm autoimmune thyroiditis (Hashimoto's), although some doctors say that antibodies less than 30 are "indications" of Hashimoto's and don't point to a raging case.
I still feel that it's best to walk through an immune-modulatory protocol and treat low levels of antibodies the same as if they were higher such that people don't find themselves on the slippery slope of increased autoimmunity or MAS (multiple autoimmunity syndrome).
Important: Unfortunately, low or no thyroid antibodies doesn't necessarily mean that Hashimoto's isn't present. Some people's systems are fatigued to the point that antibodies aren't circulating in the blood, even though they do have thyroid tissue attack (thyroid autoimmunity). Also, if systemic/cellular inflammation is raging, as is often the case with autoimmunity, the inflammation can mask antibody blood levels. So antibodies tests can sometimes provide a false negative. 
Below are the functional medicine reference ranges. It's important to compare lab results with these functional ranges vs. the old, outdated, conventional reference ranges that so many doctors are still using. And mis- or under-diagnosing with.
Free T3 (or FT3): 3.2 – 4.2 pg/mL
Free T4 (or FT4): 1.1 - 1.8 ng/dL
Reverse T3 (or RT3): 90 - 350 pg/mL or < 10:1 ratio RT3:FT3
TSH: 0.9 - 2.0 mU/L
TPOab and TgAb (Thyroperoxidase antibody and Thyroglobulin antibody) – A positive antibodes test indicates Hashimoto's (autoimmune hypothyroidism). Generally, antibodies less than 4 is considered "remission" or managment of Hashimoto's.
If you're still experiencing hypothyroid symptoms, but you've been told you're "fine," or "borderline," or told, "You don't have a thyroid problem, eat less and exercise more" (terrible advice!), compare your labs to the above ranges. They may tell a very different story that what you were lead to believe.
Posted by Jill McLaughlin (Grunewald) on Oct 11, 2011