Jill C.'s Favorite Breakfast Bake Recipe
Posted by Healthful Elements Staff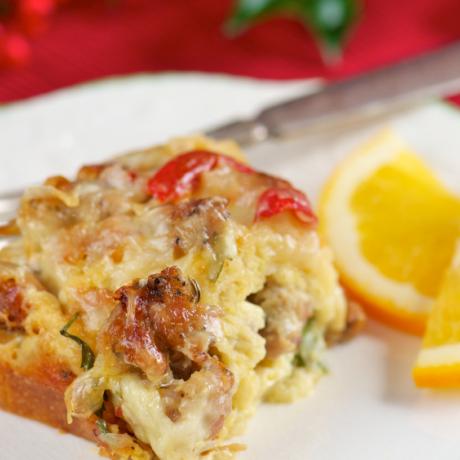 This post is an installment in our 52 Health Hinges series. Remember, "Small hinges swing big doors."
A few weeks back, I shared Health Hinge #2, The Pitfalls of Skimping on Breakfast.
I get it. You want to prepare a nutritious breakfast, but you're busy in the morning. I'm busy in the morning, too, but now that I know what I feel like with and without a good breakfast, I make the time.
It's THAT worth it to me. Remember, eating a balanced, nutrient-dense breakfast will help regulate your cortisol cycle which will in turn give you energy, help you lose weight, and help you sleep more soundly.
To help make it easier, here's my favorite breakfast bake recipe. This is something that you can make ahead of time and eat all week. If you don't have time to eat before you leave the house, pack it up the night before and bring it with you to heat up at work. I hope you like it as much as I do!
Sweet Potato Breakfast Casserole (dairy- and gluten-free)
Ingredients:
Sausage
1 pound ground pork (or meat of your choice) *
1/2 teaspoon garlic powder
1 teaspoon salt
1/4 teaspoon powdered thyme *
1/2 teaspoon sage
1/8 teaspoon fennel
pinch red pepper flakes
black pepper
Everything Else
4 cups peeled and cubed sweet potatoes (3-4 potatoes)
1 onion, diced
1 bell pepper, diced *
8 oz package crimini mushrooms *
12 eggs *
1/2 cup full fat coconut milk (canned, not boxed) or can sub other milk
Sea salt and freshly cracked pepper
Instructions:
In a skillet, combine all the sausage ingredients. Cook until almost done. Add the onions and finish cooking.
Meanwhile, place sweet potatoes on a jelly roll pan and broil on high for 10 minutes, stir and broil another 5 minutes. I keep my pan in the middle of the oven; if yours is higher you may need to cut down on the time.
Turn oven to 350 degrees.
In a bowl, whisk together coconut milk and eggs and season with salt and pepper.
Spread broiled sweet potatoes in the bottom of a 9x13 inch pan. Top with meat mixture. Sprinkle with the bell peppers and mushrooms. Pour egg mixture over the top.
Put in preheated 350 degree oven and bake for 35-45 minutes (I always need to check a few times to make sure the eggs are thoroughly done).
Notes:

To make the night before, follow the steps for the sausage and sweet potatoes and layer those, the peppers and the mushrooms in the pan. Place in refrigerator. Whisk eggs in a bowl and put in refrigerator. In the morning, add the coconut milk to the eggs and whisk and pour over the pan. Bake for 35-45 minutes in 350-degree oven.

Recipe adapted from: From This Kitchen Table 

* These ingredients are thyroid- and immune-supportive superstars. That's not to say that other ingredients listed aren't beneficial – coconut milk, for example, is full of medium chain fatty acids that are great for thyroid and immune function. But the five highlighted ranked extremely high on Jill and Lisa's detailed thyroid- and immune-supportive nutrition chart. You can get your very own copy of this chart by signing up for their upcoming Essential Thyroid Cookbook updates here. 

Posted by Healthful Elements Staff