Sleuthing Out Toxins in Your Food
Posted by Healthful Elements Staff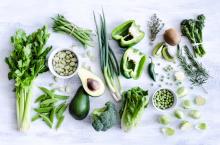 This post is an installment in our 52 Health Hinges series. Remember, "Small hinges swing big doors."
Environmental Working Group, abbreviated EWG, is a nonprofit, non-partisan organization dedicated to protecting human health and the environment, with a mission to empower people to live healthier lives in a healthier environment.
EWG provides many consumer guides to help provide information on the quality of your food and products.
The most popular is their "Dirty Dozen, Clean Fifteen" list, where they provide guidance on the most and least pesticide-laden produce to help you make choices that reduce your exposure to these toxins.
Buying all organic produce can be expensive; this guide can be used to make trade-off choices while staying within your budget.
Why should you be concerned about pesticides? Well, pesticides have been created specifically to kill living organisms – insects, plants, and fungi. Independent research has confirmed that many of these pesticides are dangerous to humans, too, as they've been linked to:
brain and nervous system toxicity
cancer
hormonal disruption
skin, eye, and lung irritation
Read more about how EWG conducted its study and more detail about the findings here.

If organic produce is still out of your budget, please don't stop eating fruits and vegetables; I'd rather anyone eat conventionally-grown produce rather than no produce at all!

Additionally, EWG has recently added a Food Scores database and mobile app that can also be used to help make healthier choices when grocery shopping. We've been talking a lot about reducing processed foods; well, this app will help arm you more information about what's really in these boxes, bags, and jars. When you do need to buy off the shelf, use this app to help identify the best options available.

EWG's Food Scores rates the food's nutritional value; health concerns about ingredients (including additives and preservatives), and contaminants (such as mercury, arsenic, and BPA); and the degree and type of processing.

Find the database, mobile app, and more information here.

In a few weeks, I'll share even more ideas on how to eat healthfully on a budget. Cheers!

Posted by Healthful Elements Staff