Your Thyroid and Your...Mattress?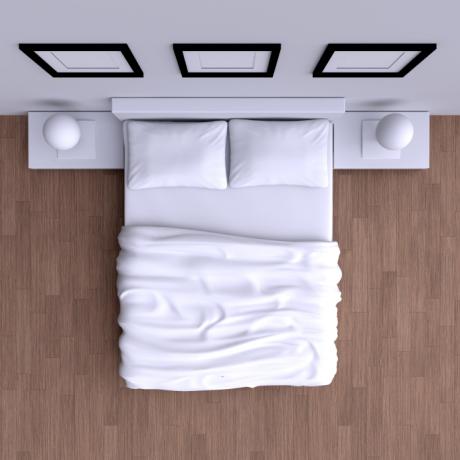 Last week, I told you about my favorite bread. (And due to the overwhelming number of orders that Happy Campers Baking received because of my newsletter/post, I unexpectedly got a fat box of bread in the mail yesterday. So hey, thank you!)
Today, I want to talk mattresses. I guess you could say that I'm sharing what I consider to be the best of two of my favorite things – my bread and my bed.
(And no, this isn't an affiliate promotion. I'm receiving no monetary reward for sharing this information with you.)
Why do I want to talk mattresses? Because we spend one third of our lives in bed and most commercial mattresses contain toxic flame retardants. This is a problem. A big problem.
I get really fired up (no pun intended) about flame retardants. I think they should be categorically banned. (PBDE flame retardants have been banned in Europe, but not in North America.)
Why? Because, among other problems, bromine, which is a toxic halogen in flame retardants, binds to iodine receptors and inhibits the utilization of iodine.
As you may know, the thyroid has the only cells in the body capable of absorbing iodine. With bromine exposure, even if you're getting adequate iodine, either from your diet or supplementation, you're unable to utilize it. And iodine deficiency can have some serious implications. 
[My best selling cookbook is now available: The Essential Thyroid Cookbook: Over 100 Nourishing Recipes for Thriving with Hypothyroidism and Hashimoto's. The educational component discusses bromine and the Companion Guide to the cookbook (free download for those who own the book) has a chapter devoted to sources of bromine and how to excrete.] 
I'm going to address iodine (and the controversy over iodine supplementation) in our upcoming Minerals and Your Thyroid series. (Update: here is a link to that series.)
Some animal studies have shown that even low levels of flame retardant exposure reduced thyroid hormone production and interfered with thyroid signaling. (No, I don't advocate animal testing).
Research is being conducted around whether there is a link between flame retardant chemicals and thyroid cancer.
I don't like alarmist tactics, but the health implications of flame retardant chemicals are nothing short of staggering. Many studies have linked PBDEs to cancer of the kidneys, liver, testes, and breasts; neurodevelopmental delays in children; infertility; birth defects; lower IQ scores; behavioral issues in children; and endocrine gland disruptions (including the thyroid). 
Some studies suggest that exposure to PBDEs lowers TSH (thyroid stimulating hormone) during pregnancy, which can have implications for maternal health and fetal development.

My Journey
Today's post is about my cross-eyed journey in finding the best, most economical, flame retardant-free, organic mattress. My hope is that the hours (days, really) I spent researching can save you some time – and get you sleeping cleaner and greener.
I'm going to share:
What I landed on after looking closely at 17 organic/nontoxic mattress companies
A breakdown of what styles the manufacturer I chose offers and my notes on each
Questions you should ask as you shop
What to do when purchasing a new mattress is out of the question financially
What to do if you have a new mattress and you're thinking, "Crap, I just spent good money on a new bed and now, this?"
And know that it doesn't stop with mattresses. Polybrominated diphenyl ethers, or PBDEs, the organobromine compounds used as flame retardants, are also found in pillows, upholstered furniture, carpet padding, and electronics.
According to the Environmental Working Group, "PBDEs are found in the bodies of nearly every American. Laboratory studies show that exposure to minute doses of PBDEs at critical points in development can damage reproductive systems and cause deficits in motor skills, learning, memory and hearing, as well as changes in behavior. In addition, they persist in the environment and therefore bioaccumulate in people."
Dr. Joseph Mercola states, "The U.S. implemented fire safety standards in the 1970s that over time has led to more and more products adopting the use of PBDEs to meet the stringent regulations. For example, as of July 1, 2007, all U.S. mattresses are required to be so flame retardant that they won't catch on fire even if they're exposed to the equivalent of a blow torch!"
That's a s**tload of chemicals.
Look, I know this is sobering. I'm not trying to be the grim reaper. But everyone needs to know this stuff.
And one of the best things you can do to minimize your exposure to flame retardants is to change out your mattress.
If you need a little more convincing about why this is important, think about this. Each time you lie down or sit on your mattress, the air inside the mattress gets forced out. In other words, you inhale what your mattress exhales.
What you're inhaling is chemical flame retardant particles. They can also be absorbed through your skin.
And it's not just flame retardants that you're ingesting. As Dr. Frank Lipman says, "Most people don't realize that they're snoozing for hours at a time, in a toxic cloud, upon a mattress that's likely off-gassing flame-retardants, stain-repelling solvents, and pesticides. A rather revolting notion, isn't it?"
What I Chose
My journey started when I was looking for a nontoxic, organic, chemical-free crib mattress in late 2012. There was no way I was going to let my baby sleep in a cloud of chemicals. (We went with Naturepedic.)
I then turned my attention towards getting two new queen mattresses. But it took a while. I was a bit paralyzed with the choices – wool? latex? cotton? a combination? – and the prices. And should we really buy something (two somethings) without having had the opportunity to lie down on it?
I was researching in fits and starts and then read that an older mattress hasn't "offgassed" its toxins, like some claim. In other words, just because a mattress has been around a while doesn't mean that the toxic cloud is any less potent. In fact, it's likely the opposite – it's more potent. 
That was it. We weren't co-sleeping with our baby, but we certainly cuddled with her in our bed. So I kicked my research into high gear and here's what I found.
I'll cut to the chase and say that we went with Dax Stores. (Remember, I'm NOT receiving any financial kickback here.)
Here's why I chose Dax:
They don't use those smarmy tactics where they list the mattress prices as "only" such and such price, highlighted in red of course, and then when you click on it, it's the price for the twin mattress only. Just be straight up, people.
Their prices were the most competitive.
They have a great selection. (See link below for a chart with my notes on different models.)
Their customer service is incredible. In fact, I had two hour-long conversations with Mark, the owner. Granted, he's a jabberwocky, but he wanted me to be totally informed about my decision.
He personally knows the producers of the wool and pure Dunlop latex for the mattresses Dax manufactures. He's friends with his wool rancher.
Dax has their own manufacturing facility.
When I asked him why his prices were so competitive, he said, "I want to make these mattresses available to people. I don't have big margins. It's just like with organic food. If not everyone can buy organic, then organic doesn't work."
Here are the other companies I looked at:
Savvy Rest
Soaring Heart
Naturepedic
White Lotus
Coco-Mat
Open Your Eyes Bedding
Vivetique
Essentia
Lifekind
Healthy Choice
Omi
SlumberPros
Moss Envy
Eco Choices
Pure Rest
Nontoxic
As I started this process, I asked these questions.
Mark at Dax answered all of them to my satisfaction. In short:
Dax mattresses are all organic with no chemicals or toxic flame retardants at all and no off-gassing of VOCs (volatile organic compounds).
The latex is totally pure – Dunlop latex.
I could return the mattresses, but would have to pay shipping back and forth for each – about $800!. (So you can see why you have to be confident in your choice.)
The warranty is 10 years, but the mattresses will last at least 20. Latex will likely last 30 years.
White glove delivery.
I chose Dax, then it came time to choose the mattress. Oh my gosh.
Here is the breakdown of my notes on each style. (We chose two Organic Cotton and Wool Tufted Queen Mattresses with two latex mattress toppers and couldn't be happier.)
Important: The notes in the above link are from the fall of 2014. I can't vouch for the availability of these models or the pricing. Please check the Dax website for accurate availability and costs.
Thinking About Cost
Ideally, we're all sleeping clean and green. But your next mattress doesn't have to be a mattress per se. An organic cotton futon on a platform or even the floor is an inexpensive, nontoxic alternative.
As Dr. Lipman says, "When it's time to make the switch, prepare for a bit of sticker shock, as most alternatives can cost twice as much as conventional mattresses. But isn't your long-term health is worth the extra money?"
And when you consider that most conventional mattresses only last a few years (10 at the most), but a quality mattress can last 20-30, you should really double or even triple the price of that cheap mattress. So a quality mattress is more financial outlay at the onset, but you may not really be spending much more over the long haul.
If Your Mattress is Relatively New
If it's too soon to scrap your mattress, you can minimize the toxic exposure by encasing it inside an organic, waterproof cover. Not plastic!
To add another layer of protection, put an organic topper on your mattress.
Have You Had Enough?
If you want to know more about flame retardants (I know, this is already a lot to think about), you may want to watch the movie, Toxic Hot Seat. I haven't seen it. I used to watch a lot of documentaries around food production, environmental issues, malevolent corporations, etc., and I have to tell you, I can't stomach them anymore.
I'm not an "angry" person, but these movies, while completely warranted, informative, eye-opening, and educational, get my blood boiling before I even watch them. And then it takes me weeks to stop stewing on the atrocities that they uncover. I guess you could say that steering clear of these documentaries is one way that I protect my adrenals. Ha.
I'll leave you with this. As one local organic mattress distributor said, "Many individuals and families are choosing to be safe now rather than being sorry later. The choice is yours to make. You can certainly find a super cheap mattress that uses cheap materials and chemical flame retardants for only a few hundred dollars, but you will be exposing yourself to toxins and certainly be replacing that mattress between five and ten years due to its premature failure."
And let us not forget about the better night's sleep you'll get on a nontoxic mattress. As Dr. Lipman states, "If your body can work on its own vital processes instead of combating toxins while you sleep, you'll wake more rested."
Posted by Jill McLaughlin (Grunewald) on Aug 20, 2015