From Total Hair Loss to a Head of Curls…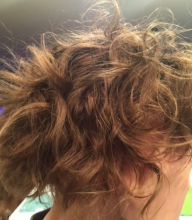 I've had ants in my pants about today's update for a long time. I knew it was coming, I just had to be patient.
You may remember my past stories about Rachel, the young girl who had been completely bald from alopecia (autoimmune hair loss) for a few years prior to working with me.
Here is the post from Oct. 2014, when we started. Here is the update from a year ago.
[December 2017 update: Here is "Rachel's" abbreviated story as published in Experience Life magazine, showing even more of her incredible progress.]
<< Please enter your name and email in the form on the left to receive alopecia-specific information and posts, including important updates on my upcoming Reversing Alopecia Masterclass Series – you can participate from anywhere in the world, on your own time. 
Since my last story in April of 2015, several people have emailed asking for updates. I've kept in close touch with Rachel's mom, who said that Rachel has been very hesitant about having her picture taken – understandably.
So I haven't had any photos – until now.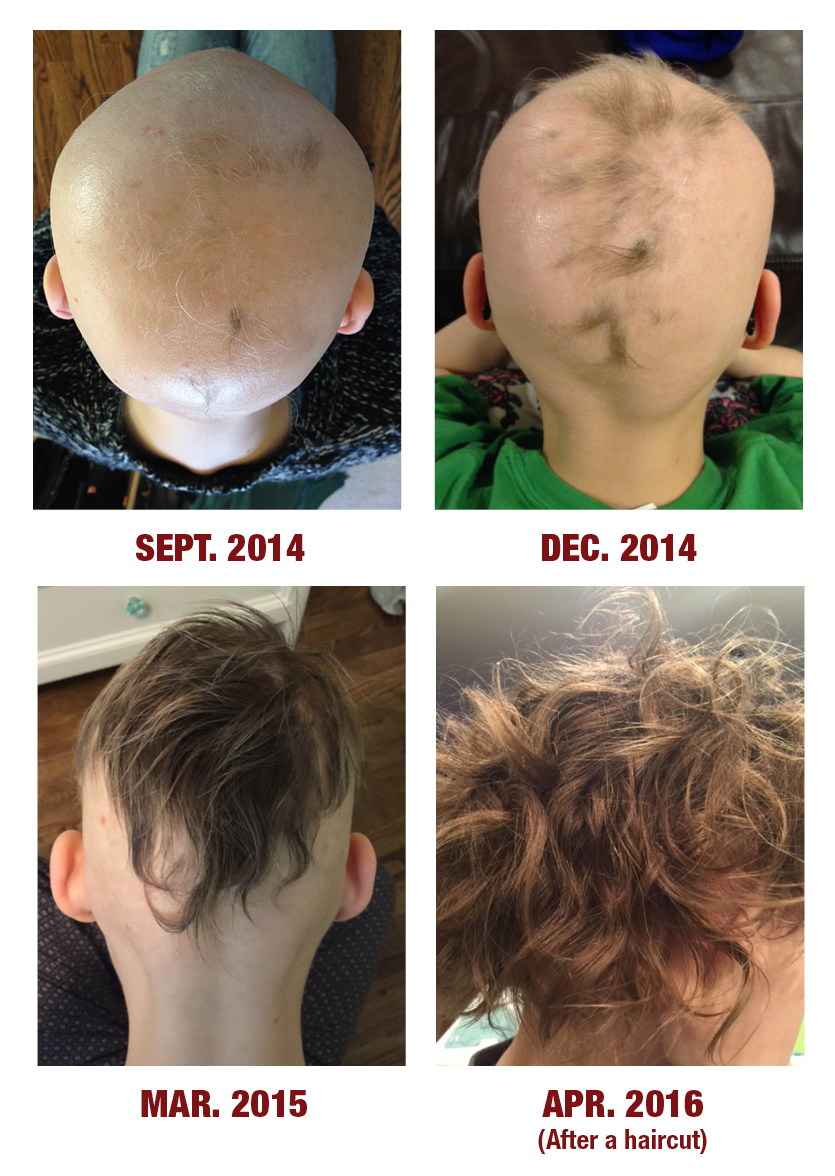 To give a brief recap, in the fall of 2014, Rachel's mom, Michelle, wrote, "My 14 year old daughter started losing hair in the 3rd grade. She's now completely bald. She has MTHFR gene mutation, Hashimoto's, and alopecia. Prescription meds are mostly what has been thrown at us. Supplements and vitamins have not changed a thing for her. She's gluten-free for the most part. It's overwhelming and disappointing because no one has been as to help her so far. We're lacking a good plan of care and someone with complete knowledge in the field to guide us. Please put her on your waiting list."
Up to that point, they'd worked with a pediatrician, dermatologist, endocrinologist, chiropractor, nutritionist, and other doctors and nurse practitioners and they'd tried electrodermal screening. Nothing had worked.
Never Linear…
As I said in my last update about Rachel's progress, it hasn't been a linear process of healing and hair regrowth. (Is anyone's healing process ever linear?)
She had stalled out for a while, even while keeping a squeaky clean diet for a long time – much longer than I recommend to any of my autoimmunity clients.
And to be clear, although you can't see it in this updated photo, Rachel still has some spots at her neckline. I can attest that those areas can be a bitch to grow back. But the curls that you see here were actually longer – Rachel cut her hair recently.
Anyway, Michelle has shared several times that she really felt that stress had played a significant role in the stall in Rachel's progress. And yes, stress can not only exacerbate hair loss, but it can also up the ante on autoimmunity, creating more antibodies that lead to more shedding.
She said, "I really think that the reason that Rachel stalled out with her regrowth for a few months was because of stress. And those solutions can be challenging to find, especially for a teenage girl."
So as I was getting email updates that Rachel had turned a corner and may soon be wig-free and that a photo was "coming soon," I was curious about what facilitated this turn of events and gotten Rachel from substantial progress to the hair she has today.
To back up, after our program and because of her plateau, Rachel had begun working with the prestigious Dr. Amy Myers in Austin, TX. And as I was preparing to write this update, I made it abundantly clear to Michelle that if this positive turn of events was made possible by additional work they'd done with Dr. Myers, I wasn't going to take credit for all of Rachel's progress.
As I've said before, I don't take the credit anyway. Rachel did the work. As Michelle said, "People need the time and desire to make this happen. Rachel had to be willing and disciplined and she was…and still is. It's so important to give this 110% to see what's possible."
She continued, "As I think back on this journey, everyone has been a step in the process. Sometimes you can take in the information, sometimes you can't. But it was the work we did with you that made us realize how Rachel's diet would affect things so profoundly.
"You explained it in a way that made it all come together – you were so thorough and how you presented the information – your 'package' – made all the difference. It does take a village, but you really taught us what we needed to know."
As I inquired more about their work with Dr. Myers, Michelle said, "By the time we began working with her, Rachel had already done the bulk of her gut healing with your program. We did lots of additional testing with Dr. Myers and nothing came up – nothing – except for an iron deficiency. As you know, iron plays a big role in hair growth. So we got her on some iron supplementation. Aside from the supplements you'd already suggested, Dr. Myers also wanted her on 5-HTP, CoQ10, and evening primrose oil.
"Dr. Myers gave us the same information and the same diet that you did, with just a few new supplements.
"And I think what really helped Rachel turn the corner was acupuncture targeted at relieving stress. If I had to say what was the big difference or big turning point outside of what we learned from you, it would be acupuncture."
Hope Floats
According to the National Alopecia Areata Foundation, "In all forms of alopecia, the hair follicles remain alive and are ready to resume normal hair production whenever they receive the appropriate signal."
Way back when, I shared this with Michelle, who said, "This gave me chills. Several people told me the hair follicles were probably dead because it has been so long. Frustrating."
Clearly, Rachel's follicles weren't dead, even after being empty for a few years. I don't know that anyone's follicles are dead.
These kinds of alarmist and irresponsible statements from the conventional medicine communities remind me of when my Hashimoto's clients tell me that their doctors tell them that their thyroids are "chewed up" or that they have "no thyroid tissue left" simply based on antibodies labs and no real evaluation of the status of their thyroid gland. Like, WTF? Really, you can make these statements based on some numbers?
Pffffttt.
Anyway, in my last update from a year ago, I said that I hoped to share a photo of Rachel with a head of hair. And I have a plan for reaching the far corners of the earth and everywhere in between to help people with alopecia get their hair back.
As Michelle said, "You have something real to offer where conventional medicine has failed."
And for the thousands of people I plan on helping, it's more than simply about "hair" – for many, it's also their sense of identity.
Click on the audio below to listen to a 2-minute recording that Michelle created about their remarkable work with Jill: 
Posted by Jill McLaughlin (Grunewald) on Apr 13, 2016