A Bibliography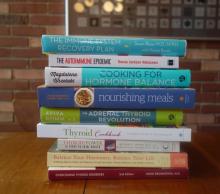 I recently put a wrap on running my first Reversing Alopecia Masterclass Series and several of my wonderful participants asked for a bibliography of my favorite wellness/hormone/autoimmunity books. 
I was thrilled to put this list together. I can wholeheartedly get behind all of these amazing resources.

General Health and Wellness 
Whole Detox, Deanna Minich, PhD
Deanna is a friend, colleague, and brilliant mastermind at blending art, color, and creativity into her unique style of nutrition education. I was honored to co-lead a thyroid health module in her Rainbow Foods & Supplements course earlier this year. 
The New Health Rules, Frank Lipman, MD
Dr. Lipman has one of the only newsletters I read regularly and he's been a big supporter of our cookbook. I've written for his blog and am honored to say that I will soon have a Contributor profile on his website. 
Food: What the Heck Should I Eat?, Mark Hyman, MD
Arguably the leader in functional medicine/functional nutrition education. An unsurpassed breadth of work and influence, in my opinion. 
Trust Your Gut, Greg Plotnkioff, MD
God bless this man. "The super sleuth" helped me reverse my alopecia after all stones I knew to turn over had been turned.  
Unconventional Medicine, Chris Kresser
Brilliant. Gifted. One of the preeminent health educators on the planet. 
The Wellness Project: How I Learned to Do Right by My Body, Without Giving Up My Life, Phoebe Lapine
Phoebe is a gluten-free chef, culinary instructor, and Hashimoto's advocate. She has a fantastic blog that I've had the honor of writing for. 
Anticancer: A New Way of Life, David Servan-Schreiber, MD, PhD
This is one of my all-time favorite health and wellness books. His story is nothing short of remarkable—it reads like a novel.
Dirty Genes, Ben Lynch, MD
This book is for anyone who wants to better understand gene mutations/MTHFR.
Autoimmunity/Immune System 
The Immune System Recovery Plan, Susan Blum, MD
Dr. Blum is the real deal. She takes the dogma out of managing—and reversing—autoimmunity. Her balanced approach was one of the backbones of the educational component of our cookbook—I quote her many times. I was thrilled to meet her in person this summer. 
The Autoimmune Epidemic, Donna Jackson Nakazawa
Childhood Disrupted: How Your Biography Becomes Your Biology, and How You Can Heal, Donna Jackson Nakazawa
Donna is an award-winning science journalist who explores the intersection between neuroscience and immunology. Her research on autoimmunity is sobering and unparalleled. You can find her words on the back of my cookbook.
An Epidemic of Absence, Moises Velasquez-Manoff
I admittedly haven't read this entire book. It's a groundbreaking resource about the stark rise in allergies and autoimmunity and the controversial therapies (some of which he's tried) scientists are working on. (Moises has alopecia.) 
The Wahls Protocol: A Radical New Way to Treat All Chronic Autoimmune Conditions Using Paleo Principles, Terry Wahls, MD
This one may surprise you, given that "Paleo" is in the title and I'm not necessarily pro-Paleo. But I stand in reverence of this woman and her journey and her case studies are remarkable. Note that the title says "Paleo principles." She has said that the traditional Paleo diet is deficient in many nutrients and offers a "twist on classic paleolithic dieting." (See her cookbook below.) 
Solving the Autoimmune Puzzle, Dr. Keesha Ewers
I saw Dr. Keesha speak at the Institute for Functional Medicine Annual Conference. I was blown away—she offers a brassy, no-holds-barred and at the same time compassionate and touching approach to autoimmunity that left me dumbstruck and teary-eyed.  
The Autoimmune Wellness Handbook: A DIY Guide to Living Well with Chronic Illness
This one may also come as a surprise, given that these brilliant autoimmunity wizards are AIP advocates. But their recipes are to die for and who ever said that AIP-compliant dishes can't be a welcome component of any therapeutic program, even if you don't eat AIP 100% of the time? This book is a comprehensive guide to living healthfully with autoimmunity and focuses on seven key steps to recovery: inform, collaborate, nourish, rest, breathe, move, and connect. 
Hormone Health 
Balance Your Hormones, Balance Your Life, Dr. Claudia Welch
This book rocked me to my core and opened up a whole new way of viewing women's health. Dr. Welch offers a totally unique and eye-opening insight into balancing hormones.
The Adrenal Thyroid Revolution, Aviva Romm, MD
Aviva is a friend, colleague, and author of the foreword to our cookbook. No one is talking about women's and children's health like she is. 
Why Do I Still Have Thyroid Symptoms When My Lab Tests are Normal?, Dr. Datis Kharrazian
I had to read this book twice. It could also be placed in the Autoimmunity category. I don't feel that it's necessarily written for the layperson (I had to make peace with the fact that there was some information I wouldn't understand and wouldn't use in my practice), but he's been a true pioneer in the understanding of thyroid health and autoimmunity. 
Overcoming Thyroid Disorders, David Brownstein, MD
I love Dr. Brownstein's brazen and sassy style and how he unapologetically and boldly confronts mainstream medicine in so many ways. His newsletters aren't for the close-minded, that's for sure. (For the record, I don't embrace his stance on iodine, which I thoroughly explain in the educational component of our cookbook.) 
Thyroid Power, Richard Shames, MD
The godfather of thyroid health and one of my first "mentors." (And he has a beautiful "radio voice.") 
Adrenal Fatigue: The 21st Century Stress Syndrome, James Wilson, ND, PhD
THE original guidebook on adrenal restoration.
Women's Bodies, Women's Wisdom, Christiane Northrup, MD
I don't know when the initial edition of this book was published, but it was a long time ago—it's a bible for women. If Dr. Shames is the godfather of thyroid health, Dr. Northrup is certainly the godmother of women's health.
Cookbooks 
The Wahls Protocol Cooking for Life: The Revolutionary Modern Paleo Plan to Treat All Chronic Autoimmune Conditions, Terry Wahls, MD
Again, I'm not "all Paleo all the time," but as mentioned above related to her book, The Wahls Protocol, she has been unrelenting in her research on specific immune-supportive nutrition and I feel this cookbook is required in every kitchen of anyone with an autoimmune condition.
Cooking for Hormone Balance, Magdalena Wszelaki
My friend Magdalena recently published this brilliant resource. Like my cookbook, it's a hybrid of focused and well-curated education and fantastic, nutrient-specific recipes. This book is a mind-boggling resource, seemingly Magdalena's life's work. 
Well Fed, Melissa Joulwan 
Well Fed 2, Melissa Joulwan 
Well Fed Weeknights, Melissa Joulwan 
The three books above by my friend Melissa are Paleo, but as I mention above about AIP recipes, who ever said that Paleo meals can't be part of a healing program, even if you're not married to it all the time? I love Mel's humor, but I also love her non-dogmatic approach to life and eating. These are some of my favorite cookbooks. 
The Whole Life Nutrition Cookbook, Alissa Segersten and Tom Malterre 
Nourishing Meals, Alissa Segersten and Tom Malterre 
Tom and Alissa have created these fantastic, no-nonsense cookbooks (they're also hybrid books with lots of great education) that are mostly free of dietary triggers and that the whole family will love. They have five kids, so they know how to develop recipes that are family-friendly.  
The Essential Thyroid Cookbook, Lisa Markley, MS, RDN, and Jill Grunewald, FMCHC
Of course I had to include my cookbook! You do not have to have a thyroid issue to thoroughly enjoy our recipes, but everyone should be eating with their thyroid in mind. It contains a substantive educational component as well as over 100 original "food as medicine" recipes that not only satisfy and delight your taste buds, but also provide you with maximum nourishment for your thyroid and immune system. 
[This post contains affiliate links.]
Posted by Jill McLaughlin (Grunewald) on Aug 16, 2018