Alopecia: The Role of Micronutrients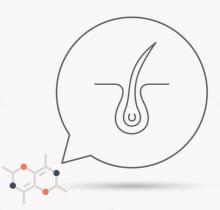 My ebook, Hair Loss: It's Reversible without Drugs, Creams, Injections, and Steroids, contains a substantive chapter called "Targeted Nutrition for Hair Growth." 
If you don't yet have the ebook, you can grab it here.
<< And if you'd like to stay abreast of announcements about the next round of my Reversing Alopecia masterclass series, look to the left and enter your name and email to receive updates. You can read testimonials from last summer's participants here.]
My ebook isn't alopecia-specific—it's more of a general "hair loss" guide that I wrote to accompany an interview/online event that I participated in last year. (And yes, I do understand that "alopecia" is the medical term for hair loss, although many medical experts refer to "alopecia" specifically as autoimmune hair loss.)
But I put my heart and soul into this guide. I didn't just slap it together to have "something" for that event. For the Nutrition chapter, I really spent a lot of time researching specific nutritional support for hair follicle health and hair growth, which I loved doing because I take a "food first" approach to most things.
Although I was confident in what I presented in that chapter, there was a part of me that thought…Am I missing anything? Did I do all that I could here?
I recently came across an article by Dermatology and Therapy that substantiated much of what I presented. And yes, I'm quite shocked that a dermatological resource would even consider that nutritional status plays a role in hair loss!
The article states that there is "conflicting evidence on [prevention and management of hair loss]" but goes on to say:
"The role of nutrition and diet in treating hair loss represents a dynamic and growing area of inquiry. Micronutrients such as vitamins and minerals play an important, but not entirely clear role in normal hair follicle development and immune cell function. 
"Deficiency of such micronutrients may represent a modifiable risk factor associated with the development, prevention, and treatment of alopecia. 
"Hair loss is a common problem that may be improved with vitamin and mineral supplementation. Vitamins and minerals are important for normal cell growth and function and may contribute to hair loss when they are deficient. 
"Micronutrients are major elements in the normal hair follicle cycle, playing a role in cellular turnover, a frequent occurrence in the matrix cells in the follicle bulb that are rapidly dividing."
Of course, I had to nerd out and cross-reference the nutrients in the article and my ebook.
Here's how it shook out:
Both resources mention: 
- Vitamin A
- Vitamin B (The Dermatology and Therapy article speaks generally about the spectrum of B vitamins (all 8), but my ebook talks more specifically about how some of the B vitamins (6 to be exact) contribute to hair health/hair growth.)
- Vitamin C
- Vitamin E
- Iron
- Selenium
- Zinc 
Only two differences:
1. My guide talks about the benefits of manganese.
2. The Dermatology and Therapy article mentions Vitamin D. As it should! The benefits of Vitamin D are so far-reaching, it's mind-boggling. 
An adequate level of Vitamin D is non-negotiable for managing any autoimmune condition and/or hormonal imbalance. And yes, there are several hormones associated with alopecia, as I covered thoroughly in my Reversing Alopecia masterclass series.
(I just wrote an article for Dr. Frank Lipman's blog about Vitamin D (it's about thyroid health but also speaks to the vast benefits of Vitamin D generally) and I also talk about some of the things that can inhibit Vitamin D absorption here.)
Perhaps the Dermatology and Therapy article isn't the end-all-be-all nutrient guide for hair loss/hair health, but overall, I feel that 86% overlap with a peer-reviewed, international, open access journal that's dedicated to "the publication of high-quality preclinical, clinical, observational, real-world, and health outcomes research around the discovery, development, and use of dermatological therapies" is pretty good!
From a medical/dermatological/endocrinologic perspective, the role of nutrition in hair loss/hair health has been LARGELY absent. How and why is baffling to me, but much of Western/conventional medicine baffles me. 
Again, you can get the ebook here, where it goes into more detail about these specific nutrients and how they support the hair follicles and hair growth, along with a lot of other great information about reasons for loss, increasing scalp circulation, and the (largely forgotten) hormonal factor.
* * *
Go here for my alopecia interview with Alopecia Life >
Go here for my alopecia interview with Rebuilding My Health >
Posted by Jill McLaughlin (Grunewald) on Feb 07, 2019