6 Things to Love About Squash
Posted by Healthful Elements Staff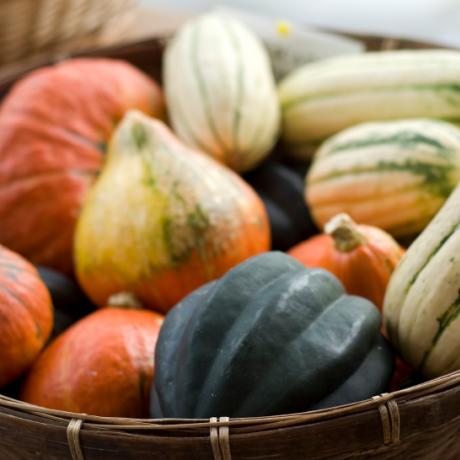 This post is an installment in our 52 Health Hinges series. Remember, "Small hinges swing big doors."
My family loves squash.
We have 28 squash in our garage right now, along with the business card for contacting our farmer when we run out.
In our house, squash is serious business; there's no such thing as being too prepared.
It seems that butternut squash gets a lot of attention, but my favorites are buttercup, delicata, acorn, and pumpkin.
Here are 6 reasons to love squash:
It contains plant-based omega-3 fats.
It can be stored for months, so stock up! (We have ours in the garage now, but will move it to the basement when it becomes too cold.)
It's easy to prepare – here's my favorite method. Slice the squash in half and scoop out the seeds. Place cut-side down in a shallow baking pan. Add a small amount of water to the pan to keep the squash from drying out while cooking. Bake at 375 degrees until soft (approximately 45 minutes – it depends on the size of the squash). Scoop the squash into a bowl and mash with butter or ghee and cinnamon, to taste. (My least favorite part is cutting the squash in half. I'm clumsy with a knife, and get even clumsier when I'm working with something thick, like squash. Please be careful.)
Healthful Elements founder, Jill Grunewald, enjoys making squash pancakes. In recipe #8, she substitutes 7-8 ounces of squash for the banana. It's the equivalent of ½ can of squash or pumpkin (always buy BPA-free canned foods), but Jill G. says this recipe is best with fresh buttercup squash. If you can't tolerate eggs, a flax egg can be used instead. (1 egg = Soak 1 tablespoon of ground flaxseeds in 3 tablespoons of warm water for 10 minutes, until it becomes gel-like.) 
It's delicious. Now get to it.
Note: It's commonly thought that orange vegetables such as carrots, squash, sweet potatoes, etc. are rich food sources of Vitamin A. These vegetables provide carotenoids, the precursor to Vitamin A. To meet our need for Vitamin A, it's important to eat retinol-rich foods such as pastured dairy, liver, cod liver oil, and egg yolks. 

Posted by Healthful Elements Staff