Autumnal Nourishment
Posted by Healthful Elements Staff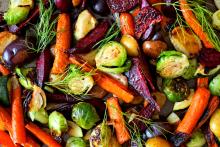 This post was written by Lisa Markley, MS, RDN, who, along with Jill, co-authored the #1 best selling Essential Thyroid Cookbook.
Although the days are shorter and the air crisper, as we continue our transition into the colder months ahead, we can draw warmth and nourishment from the abundance of autumn foods that contain fiery red, deep orange, and earthy brown hues.  
While this time of year marks the end of the growing season for most foods, several are at their peak this time of year (sweet potatoes, winter squash, apples), have lots of energy stored at their core, and tend to keep well into winter months.
The cooler weather and darker nights call us home and make our kitchens an inviting place to be. It's easy to be inspired to cook with this rich palette of seasonal foods and to give our bodies—which are often craving warm, slower cooked heartier foods like soups, stews, and roasted vegetables—what they crave. These foods are easy to digest and provide ample nourishment for our immune system, helping to keep us well throughout the winter months.  
Here are some of the best autumn foods that you'll want to savor this season while reaping their immune-supportive nutrients: 
Orange superfoods: Sweet potatoes, pumpkin, and winter squash are perhaps the most quintessential autumn foods. Eating at least one serving of these orange foods a day will boost the body with important nutrients, particularly beta-carotene (vitamin A's precursor). Vitamin A is key for promoting immunity, healthy skin, keen vision, and strong bones. Roasting or cooking these vegetables will draw out their natural sweetness and make their beta-carotene more bioavailable to the body. 
Root vegetables: Beets, carrots, turnips, potatoes, and watermelon radishes are nutritional storehouses that grow beneath the ground where they absorb high amounts of minerals and other nutrients from the soil. These grounding root veggies are loaded with important complex carbohydrates that provide the body with long-lasting energy. Perhaps one of the most simple and delicious to eat root veggies is roasted with onions and garlic. And they make great leftovers. Be sure to top root veggies with greens before storing, otherwise their leaves will continue to draw water and energy from the roots causing them to wilt and spoil more quickly. 
Cruciferous vegetables: Brussels sprouts, kale, cabbage, arugula, and cauliflower are cool weather cruciferous crops that by no coincidence come into season at the perfect time to protect our bodies from colds and flu. These nutritional superstars are loaded with vitamins A and C, as well as a host of other important antioxidants that fight off inflammation and help rid the body of toxins. Steaming, sautéing, and roasting are all delicious methods for toning down some of their bitter flavors while making some of their key nutrients more readily absorbed. You do NOT need to worry about these veggies slowing your thyroid.  
Cranberries and pomegranates: The deep red pigments in these fruits indicate that they're a great source of flavonoids and polyphenols, potent antioxidants that offer protection against heart disease and cancer. No Thanksgiving dinner is complete without cranberry sauce, so try my healthier version. Or for an elegant beverage to serve with your holiday meal, try diluting pomegranate juice with mineral water and float a sliced orange on top. 
Apples and pears: These fall favorites both contain a type of soluble fiber called pectin, which works to bind and remove toxins and cholesterol from the lumen of our digestive tracts. Amazingly, apples and pears also contain certain antioxidant polyphenols that have been shown to help improve insulin sensitivity and regulate blood sugar levels. Baked apples and pears make a simple, yet decadent dessert especially when sprinkled with cinnamon and toasted local pecans. If you have our Essential Thyroid Cookbook, be sure to try the Warm Apple Crisp recipe.  
Warming spices: Warming spices can help to warm your body from the inside out.  Spices provide a concentrated form of flavor and antioxidants and are great for stimulating digestion, breaking up congestion, and improving circulation. Cinnamon and ginger are warming spices that can be used to complement sweet flavors like apples and sweet potatoes. Horseradish and garlic are also very warming, but their pungent flavors are better paired with other savory ingredients. 
Posted by Healthful Elements Staff