Your Thyroid + Manganese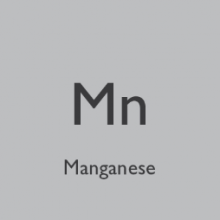 This post is the seventh installment in my ten-part Minerals and Your Thyroid series, where I'm highlighting eight thyroid-supportive minerals (iodine is two parts) and one troublemaker: fluoride.
Prior posts: Calcium, Copper, Iron, Iodine (Part 1, Part 2), Magnesium
Manganese symbol: Mn
Atomic number: 25
Manganese. You just don't hear a lot about it. 
And maybe, when you've seen the word, you thought that the writer didn't know how to spell "magnesium."
The term is derived from the Greek word for "magic" and indeed, the ancient Greeks regarded manganese as having magical powers.
Yes, it's a mineral, but it's also a powerful antioxidant (free radical scavenger) that helps to prevent cell damage.
And it's another "Goldilocks mineral," where too much or too little can be detrimental.
Manganese deficiency can lead to:
Low cholesterol (manganese is needed for cholesterol synthesis)
Fat accumulation in the liver
Asthma
Joint pain
Selenium deficiency
Pancreatic dysfunction, including elevated insulin
Reduced immune function
Hair loss
Tremors
Muscle cramping
Mitochondrial abnormalities
[I thoroughly address optimal thyroid nutrition in my best selling cookbook, The Essential Thyroid Cookbook: Over 100 Nourishing Recipes for Thriving with Hypothyroidism and Hashimoto's. The educational component of the cookbook details not only thyroid-supportive minerals, but also vitamins and amino acids that help to optimize thyroid function. The mouthwatering recipes are chock full of these supportive nutrients.]
Speaking of mitrochondria, manganese is required for the production of superoxide dismutase (MnSOD) – MnSOD is an anti-inflammatory and has a calming effect on the immune system. It's also important for our mitochondrial antioxidant "security system." These mitochondrial engines help us to produce heat and energy, which is especially important for those with hypothyroidism, given that fatigue and difficulty thermo-regulating (being cold all the time) are hallmark symptoms of low thyroid function.
Manganese is involved in thyroid hormone synthesis – it's important for the production of T4. As you may know, much of our T4 needs to be converted into T3 and this T4/T3 conversion largely takes place in the liver. MnSOD helps to facilitate this activity. Selenium, which we'll cover next week, increases liver MnSOD expression.
Other benefits of manganese include:
Aids in absorption of magnesium
Has anti-clotting properties
Supports the utilization of C, E, and B vitamins
Promotes normal growth and development in children
Encourages healthy neurotransmitter levels
Promotes normal brain and nerve function
Repairs bone and connective tissue
Manganese and Your Bones
I'm particularly interested in any nutrient that supports bone health. My mother ended up passing away early this year as a result of many complications from undiagnosed Celiac disease – she was diagnosed at the age of 70 because of her severe osteoporosis. 
In that last decade or so of my mom's life, although her doctor said that many of her bones were "like chalk" and she'd had many fractures, I still looked to the advice of my friend and colleague, Irma Jennings, the "Holistic Bone Coach."
Irma says, "When it comes to bones, manganese keeps really busy. It helps your body absorb calcium and form bones, collagen, and connective tissue."
She continues, "Adding manganese to your bone food plan can boost the effectiveness of your calcium.
"Of course, I always get my calcium, manganese, and other minerals needed for bone strength through food. For most of human history we had no problem getting sufficient manganese for our bones. But that may be changing.
"According to a new study by Dr. Stephanie Seneff, pesticides in our food may be draining the manganese out of our bodies.
"Dr. Seneff suggests that glyphosate in Monsanto's Roundup pesticide may chelate manganese in the body. In other words, it binds to manganese and takes it out of circulation. That disrupts your bone-building process.
"It happens when you eat foods sprayed with Roundup or eat genetically modified organisms (GMOs) that contain glyphosate. Our food supply is now full of glyphosate because Roundup is the most widely used herbicide on the planet. High levels are in GMO corn, soy, canola, cotton, alfalfa, and sugar beets."
As if we didn't need another reason to ban GMOs, which, as you probably know, don't require labeling.
Hair Loss
As some of you may know, I have a passion for helping people with alopecia (autoimmune hair loss) – I've suffered from it for over 30 years.
I tell all my clients, when it comes to nutrition for hair loss, among other things, focus on minerals, minerals, minerals. I've primarily gotten on my soapbox about zinc (we'll address zinc in two weeks) and iron/ferritin, but in researching for this post, I found this, from Dr. Jeremy Kaslow:
"Trace Minerals International of Colorado examined the mineral metabolism of 19 patients with alopecia (hair loss). The spectrophotometric analysis showed manganese deficiency in all 19."
So I guess I'll add manganese to the "high horse" list.
Manganese Excess
Let's go back to this "too much" manganese thing.
While rare, manganese excess, mostly from overexposure to industrial pollution; overconsumption of coffee, tea, and chocolate; and excess supplementation can reduce T4 and T3 blood levels, which shows that both deficiency and excess of manganese can cause impact thyroid function.
Again, manganese overexposure is rare, but can also cause:
Neurological issues
Psychiatric conditions
Confusion / difficulty concentrating
Memory loss
Loss of appetite
Parkinson's-like symptoms
Iron deficiency
Increased need for vitamin C and copper
You know, I hate overthinking things as much as the next person. I like simplicity. And as I've plowed through this Minerals and Your Thyroid series, I've found that the interplay between all of these minerals is enough to make your head spin.
Yes, sometimes people have legitimate deficiencies that require supplementation, especially given that our soils aren't as mineral-rich as decades past.
And I love the saying, "Don't guess, test." Or, "You can't manage what you don't measure."
As far as manganese supplementation goes, Dr. Richard Shames suggests 10-20 milligrams daily. But you can likely get what you need from food (see long list below). 
I'm inclined to think that the more we focus on organically-grown, whole foods, things tend to take care of themselves.
That said, here are some things to consider in relation to manganese and other minerals:
Calcium supplementation can interfere with manganese absorption.
If you have anemia (low iron), the body will try to absorb as much manganese as possible, so even minimal supplementation can lead to manganese excess.
Similarly, according to Dr. Kaslow, manganese excess can lead to iron excess and alternately, excess iron can lead to too much manganese.
Similarly again, zinc and manganese may interfere with iron absorption. (Source)
Remember how we addressed copper toxicity a few weeks ago? "Manganese and zinc therapy can reduce copper levels and therefore manganese and/or zinc may be of therapeutic value in the treatment of symptoms linked to excess copper." (Source)
(Zinc is in the hot seat in two weeks.)
I know, this is a lot to think about. I'm not trying to add more to your plate. Don't overthink it. I'm not going to. Just eat real food and supplement only when truly necessary. :)
Foods rich in manganese include: cloves, oats, brown rice, garbanzo beans, spinach, pineapple, collard greens, cinnamon, raspberries, black pepper, beet greens, Swiss chard, strawberries, kale, turnip greens, mustard greens, summer squash, turmeric, sea vegetables, garlic, basil, bok choy, pumpkin seeds, rye, soybeans, tempeh, miso, tofu*, barley, quinoa, walnuts, sweet potato, lentils, lima beans, navy beans, sesame seeds, green peas, buckwheat, beets, almonds, blueberries, winter squash, cranberries, green beans, Brussels sprouts, flaxseeds, cabbage, broccoli, asparagus, leeks, tomatoes, fennel, cauliflower, romaine lettuce, cumin, crimini mushrooms, oregano, mustard seeds, and celery.
* I'm not a fan of tofu. I'm not categorically against soy, but I believe it should be fermented, as in tempeh, miso, or natto, and only consumed in moderation.
Important note for this whole Minerals series: You may see some slight discrepancies in the list of foods in this post and the list of foods in my thyroid- and immune-supportive nutrition chart (which you can download for free here). This is because for the chart, we created a ranking system. If each thyroid- and immune-supportive food didn't have a broad enough nutritional spectrum such that it represented enough nutrients, it didn't make the cut. In other words, the list in this post may be slightly more inclusive.
Posted by Jill McLaughlin (Grunewald) on Oct 15, 2015