7 Reasons to Think Critically About COVID-19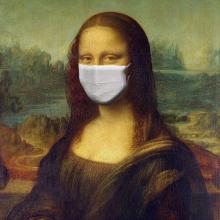 The views expressed here may or may not be shared with my employees, former employees, co-authors, advisors, or affiliates. They are expressly my own.
I got my first bald spot—right on top of my head—when I was in junior high. I was on the swim team and there's nothing like wet hair to display bald spots, as I've written about before.
I was prescribed a conventional treatment, cortisol injections. But for a young teen going through puberty, getting shots of corticosteroids in my scalp ("the cure") turned out to be worse for me—way worse—than the alopecia.
I've long struggled with this ongoing condition, off and on. In my early 40s, my alopecia got so bad that I was half bald. Today, my curls are back and thankfully, I didn't have to resort to wearing a wig. I reversed my alopecia without using drugs, injections, or steroids.
If my eventual triumph over alopecia (and Hashimoto's in the years prior) has taught me anything, it's that it's important to think critically. It's imperative to question everything, weigh the risks and benefits of medical advice, and most importantly, look for underlying causes of illness and disease.
When we uncover the root causes, we can treat the real problems and, in most cases, reverse the condition. This is part of the basic philosophy by which I live my life and coach my clients. It's also the approach that more holistically minded healthcare practitioners, including functional and integrative medical doctors, use to help their patients.
Challenging Times
These are trying times. Although the cases of COVID-19 seem to be on the decline, many are afraid, still, to leave their houses. Healthy people are terrified of other healthy people. Neighbors are still flinching away from each other in fear. Strangers are yelling at each other in the post office for getting too close, wearing masks, or not wearing masks.
Go here for my more recent article, COVID-19 in America >
I recently went for a walk with a friend by the Mississippi River near my home. There was no one else on the path, it was warm, and she insisted on walking 6 feet apart. She still wore a mask. When it was time to part, she gave me an air hug. We're both healthy. Neither of us has had any exposure to the coronavirus. "My family would kill me if I hugged you," she apologized.
Otherwise rational and grounded people, including some of my closest colleagues, seem to be thinking with their amygdala instead of their frontal cortex: wearing masks while alone in the car, shaming grandparents for hugging their grandchildren, and accusing thought leaders who are optimistic about coronavirus recovery rates of being "dangerous," "narcissistic," "selfish," and "misinformed."  
In the meantime, the economy is being devastated, people are starving for human contact, and suicide rates, already skyrocketing among young people, are at an all-time high.
How do you know who or what to believe? How do you separate fact from fiction? How do you make the best, safest, and most informed choices for yourself and for your children? These are questions I ask myself every day: about alopecia, about Hashimoto's, about vaccines, and now, of course, about COVID-19.
Think Critically About COVID-19
I'm not here to tell you how or what to think.
What I do want to tell you is to think for yourself. To think critically. To say "no" to groupthink. To be ready to question—both your own assumptions and other people's.
Please, think critically about COVID-19.
Question everything. Do the research for yourself. Don't blindly trust or follow any news source, thought leader, or medical doctor. The person who does deserve your blind trust and unconditional love? You.
I've been closely following the news stories and the scientific literature about coronavirus. There's so much we still don't know—and there are many reasons to be skeptical.
And at this point, I'm extremely concerned—as many of the world's experts are (including this one, this one, this one, and this one)—that our response to the virus is doing more harm than the virus itself.
As you think critically about COVID-19 and do your own research, here are 7 points to consider.
Mental Health and Physical Wellbeing
Once you start thinking critically about COVID-19, you realize that there's more missing information than "misinformation." You realize that panic and stress aren't the answer, and that some of the "cures" may be more harmful than the virus.
The former director of Israel's Health Ministry argues that the data we do have show that it's time to end the lockdown. This is a sentiment echoed by thought leaders and health experts around the world, including Knut M. Wittkowksi, PhD, a former research associate at Rockefeller University, where he works on biostatistics and epidemiology (source).
I believe we all need to attend more to our mental health and physical wellbeing. My friends and colleagues in the functional health community agree.
I just wrapped up teaching a 2.5-month long Reversing Alopecia course. And in my work with course participants and also my private coaching clients, I'm hearing that people have been reaching for "unhealthy" comfort foods like alcohol, sugar, and junk carbs. I don't believe in perfection. I don't think these things are necessarily "bad." But we all know that relying on junk food and mind-altering substances to feel at peace never works for long.
How to Smooth Your Feathers
As a health coach, I want to tell you that when it comes to taming stress and anxiety, nourishing and supporting your adrenals ("the shock absorbers of life") is the ticket for feeling more calm and centered.
For years, I've sung the praises of keeping blood sugar as balanced as possible, which has a direct and profound impact on adrenal status and the stress response. It is, unequivocally, one of the single best ways to tame stress and feel more grounded.
To that end, I offer you my Balance Your Blood Sugar ebook for free. It's not an opt-in; I don't want your name and email. It's just a click away and you can find it here.
In addition to reading, thinking critically, and educating yourself, I urge you to start doing this seriously simple stress-conquering breathing exercise (which is indeed mentioned in the above link about adrenal health). It's some of the lowest hanging (and free!) fruit for taming stress.
I suggest you turn away from mainstream news and other media. Fight the fear by being productive and proactive: Get involved with Children's Health Defense or the medical freedom organization in your state. My favorite is Vaccine Safety Council of Minnesota.
Me, I'm channeling my worry into building bridges and alliances. In fact, I'm starting a new organization called Coaches for Health Freedom. I'll share more about it as soon as I can.
The coronavirus, the lockdown, and the economic downturn have shredded our country. But great things never come from comfort zones. As William Shakespeare famously said, "Sweet are the uses of adversity." I believe we can find our way out of this mess. Together. It's time. To reconnect, rebuild, and move forward.
Posted by Jill McLaughlin (Grunewald) on Jun 20, 2020