Announcing, the Year-Long Reversing Alopecia Roadmap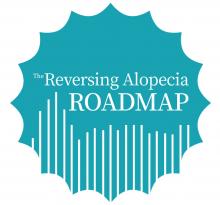 We're doing some things differently with our alopecia group coaching program. And if you suffer from hair loss…of any pattern…we hope that you'll consider taking this new journey with us.
The former Reversing Alopecia Mastercourse has moved to a new format. And we're inviting you to join us…for a year.
Yes, a year.
(And yes, we're still doing private, individualized, 1:1 coaching.)
There are two levels of Roadmap engagement available and no matter what program you choose, you'll get LIVE support from us.
Dr. Elizabeth and I shared our new Reversing Alopecia Roadmap outline with one of our colleagues who said…
"Wow, you're pouring some major love into these people. Jill, you two are integral in creating the new healthcare system. This is like concierge level support when most people can't get a single appointment with a functional medicine provider for less than $2500. And you're doing this for a whole year? Kudos to you guys."
Many with alopecia have very legitimate and well-founded concerns about MAS (multiple autoimmune syndrome) and the additional ramifications of ongoing hormonal imbalances. While cessation of loss and hair growth are certainly a goal, they're worried about the associated imbalances that often accompany alopecia, no matter what loss pattern.
Let us support you. Let us help you get unstuck.
Please know that unlike some programs, Dr. Elizabeth and I aren't into herding people through the gate with no consideration for whether they're engaging or where they are in the journey. 
We're not going to "mother hen" you, but we CARE about your journey and we'll be there for you. The educational and engaging modules are recorded and you can listen on your own time, but unlike some online courses, this isn't a "set it and forget it" program for us.
In other words, it's not a DIY thing. We're engaged. We're not launching the 22 modules and turning our attention away—we're in it for you to win it.
We're thrilled with what we've created. And if taking part in the Reversing Alopecia course is something you've wanted to do, this is your opportunity to let us support you for a year.
Keep in mind, there is no "launch" with this program—you can jump in at any time, absorb the modules on your own time, and then jump into the weekly LIVE Q&A/coaching sessions as you can (which will be recorded). You do NOT need to be there every week to benefit from this.
Course features:
Again, we're going to "track" with you for a whole year.
There will be recorded video modules and weekly LIVE coaching and support calls.
It will be all the same modules, materials, handouts, and guides as the full course (via recorded video modules) and as what we teach our private coaching clients.
There will also be community in our new client portal.
We'll regularly host live guest interviews from experts in the functional medicine community specifically around alopecia but also general hormone and immune health.
We'll do deep dive educational sessions on specific topics each month.
In addition to our specific video module on the Alopecia Labs Guide, we'll do deep dive labs discussions where we anonymously review participants' lab values.
For Intensive participants:
You'll get private chat support with Elizabeth and me in the course portal.
You'll receive a 25% discount on individual, 1:1 sessions, if you feel that you need them.
No matter what path you choose, you will NOT be on your own. Again, this isn't a DIY thing.
The 22 educational modules are ready for you in our beautiful online client portal and we're connecting with participants in the weekly coaching sessions.
And again, if you choose the Intensive option, you'll receive ongoing private chat support with us.
We'd love to support you.
Join The Reversing Alopecia Roadmap >
* * *
You can go here to schedule a private, Jumpstart session to discuss your options. If you choose to move forward with either a private coaching program or one of the Roadmap options, the cost of the Jumpstart is credited back to you.
Posted by Jill McLaughlin (Grunewald) on Sep 16, 2022